Co-Founder Of Habitat For Humanity Dies At 74
Habitat for Humanity co-founder Millard Fuller died Tuesday at the age of 74. He started the Christian house-building charity with his wife in 1976. Fuller believed people of faith must put their faith into practice.
RENEE MONTAGNE: Former President Jimmy Carter, a fellow Southerner and a long time Habitat volunteer, called Millard Fuller one of the most extraordinary people I have ever know. He was 74 years old when he died.
NPR transcripts are created on a rush deadline by Verb8tm, Inc., an NPR contractor, and produced using a proprietary transcription process developed with NPR. This text may not be in its final form and may be updated or revised in the future. Accuracy and availability may vary. The authoritative record of NPR's programming is the audio record.
Habitat For Humanity Founder Millard Fuller Dies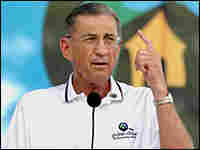 Erik S. Lesser/Getty Images
The man who founded Habitat for Humanity died Tuesday morning at age 74. Millard Fuller was an entrepreneur who was born in Alabama and became a young millionaire.
But Fuller left that life to create a worldwide network to help the poor by building more than 300,000 homes in nearly 100 countries.
Fuller was a country boy from Lanett, Ala., who started raising pigs at age 6, launched a marketing business, became a lawyer and was a millionaire by the time he turned 29. He began having health problems and his marriage was breaking up, so as Fuller told the National Press Club in 1996, "After spending most of my adult life in the pursuit of success in law and business, I wanted to make my life count for something of more lasting value. So I made a radical change. Linda and I divested ourselves of our wealth and sought a very different kind of life — a life of Christian service."
Fuller believed people of faith must put their faith into practice. He and his family moved to Zaire in 1973 to build homes, and in 1976, he returned to the U.S. and started Habitat for Humanity with his wife. Fuller said the key principle was to build simple, decent houses.
"We want to make shelter a matter of conscience," he said. "We want to make it socially, morally, politically and religiously unacceptable to have substandard housing and homelessness."
Habitat's most famous volunteer is former President Jimmy Carter. In a statement, Carter said Fuller was one of the most extraordinary people he'd ever known — an inspiration, someone who "used his remarkable gifts as an entrepreneur for the benefit of millions of needy people around the world."
Fuller lived at Koinonia Farm near Americus, Ga., in the 1960s and remained a supporter of the interracial Christian community all his life.
Bren Dubay, executive director of Koinonia, met with Fuller every month.
"He reached out to everyone," Dubay says. "He knew presidents and kings, but also knew the next-door neighbor and person at the gas station. He was just a friend to everyone."
In 2005, Habitat's board ousted Fuller after allegations of sexual harassment, despite the board's conclusion that there was insufficient evidence to substantiate charges against him. But Dubay says that didn't stop his work. The philanthropist continued to raise money for Habitat affiliates and he founded a new organization: the Fuller Center for Housing.
"It of course saddened him. Some accusations that were made against him, he swore to me and to many others they were not true, but he harbored no ill will," Dubay says.
Fuller will be buried in a simple pine box Wednesday morning at Koinonia, according to his wishes. A memorial service will be held later in February.