Journalism Students Uneasy About Job Prospects
Journalism Students Uneasy About Job Prospects
Jeff Haynes/AFP/Getty Images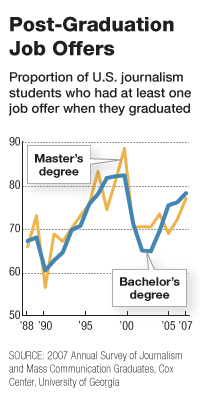 Newspapers have been struggling for several years to reinvent themselves in the age of the Internet.
But now, hit with a recession, many newspapers and other media outlets are announcing additional cutbacks and layoffs.
At the University of Missouri, Columbia — one of the nation's top journalism schools — aspiring young reporters are feeling uneasy about job prospects upon graduation.
Bad Economy Hits Home
It's a busy morning in the newsroom of the Columbia Missourian. Journalism students are hunched over their computers, working on the day's assignments. A little after 11 a.m., Professor Tom Warhover points to a large screen displaying the Missourian's Web site.
The daily newspaper is written by students here at the nation's oldest journalism school. Warhover asks his students to brainstorm about how the recession is affecting them.
"The biggest story of 2009 barring events is the economy, right?" Warhover asks his students. "That's duh, right? But your own personal experiences can come into play here. OK?"
Right now, the economy is especially bad news for these students. When they graduate, they'll head into an industry that shed a staggering 15,000 jobs in the newspaper sector alone last year.
Emily Younker is a master's degree candidate from Joplin, Mo. She says her goal is to get a job in journalism when she graduates in May.
"I am starting to think about Plans B and C in case that doesn't really happen," she says.
Another student, Chad Day, is a senior. He is planning to do an internship at a newspaper this summer, and then look for another if he can't find a job. Day says he is also trying to think beyond print journalism, learning to work with video and audio.
"I'm worried, but I'm also hoping that I can do some things now and try to be proactive about it so I can persuade somebody to hire me," he says.
'If It Gives You Goose Bumps, Go For It'
About 25 years ago, Brian McTavish was also a young reporter looking for a job. He started out freelancing for his hometown newspaper, The Kansas City Star, before he was hired to cover arts and entertainment full time. He held on to that job for more than two decades. McTavish was laid off in September.
McTavish, a tall man with glasses and an almost boyish energy, admits he is not quite over the shock of losing his job. Even so, he would think twice before discouraging a young person from going into journalism.
"If it gives you goose bumps when you're sitting across from somebody, because you're getting them to tell you what's really on their mind so you can share that with other people, I'd say go for it," McTavish says of reporting. "I would not discourage anybody from following their so-called dream. Will your dream turn into a nightmare? Well, so what?"
Back at the University of Missouri, Day says every aspiring young reporter he knows is worried about what's happening in the industry. But he says he is still determined to be a journalist.
He and many classmates "are kind of driven to do this," Day says. "We may be pessimistic and may not be making the wisest decision right now, but I think that I wouldn't change my decision."
Day's father, a carpenter, told him to find a career he loves so much he'd be willing to work free. As graduation gets closer — and the news about the news business gets worse — Day says he hopes he doesn't have to take that advice literally.