Iraqi Prime Minister's Party Tops Election Results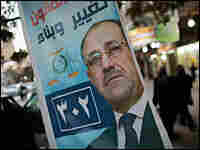 Chris Hondros/Getty Images
Initial results of Iraq's provincial elections were released Thursday, showing Prime Minister Nouri al-Maliki's Dawa Party emerging as the strongest group.
The Dawa Party won pluralities in nine of the 14 provinces where voting took place on Jan. 31, according to initial results. The elections also brought Sunni parties to power in provinces where Sunnis boycotted the last vote in 2005.
The Independent High Electoral Commission of Iraq released the preliminary results in Baghdad. The Dawa Party topped the list in the Iraqi capital, followed by a bewildering array of parties. Results were similar in every province, with at least a dozen parties splitting the vote.
The next few weeks are likely to be filled with backroom deal-making as parties try to put together ruling coalitions.
Even though he didn't dominate completely, the big winner by all accounts was Maliki and his Dawa Party. Not so long ago, many considered Maliki weak and ineffectual. He is now given much of the credit for bringing a modicum of peace to Iraq. Violence in the country is at its lowest level since the U.S. invasion in 2003.
Haider al-Abadi, a Dawa Party legislator, says security was important, but that there were other key issues in the campaign as well.
"I think this is quite a clear vote against sectarianism and against a weaker Iraq," Abadi says.
A weaker central government was the goal of the Islamic Supreme Council of Iraq, the other big Shiite party and Maliki's main rival in the largely Shiite south. Its campaign, unlike Maliki's, made explicit use of religious imagery and themes.
The Supreme Council has advocated creation of an autonomous "megaprovince" in southern Iraq, similar to what the Kurds have in the country's north. That goal is not shared by Maliki.
One of the Supreme Council's leaders, Ammar al-Hakim, acknowledges that the party was expecting to do better than it did, but says it hasn't given up the idea of an autonomous region.
"We will study the local, regional, international circumstances. But the idea of regional autonomy remains a constitutional right, and the people should decide," Hakim says.
Kurdish lawmaker Mahmoud Othman attributes Maliki's success to being able to portray himself as someone concerned about security and services, rather than sect or region.
"His slogans were attractive. Although he's [in] an Islamic party ... he didn't [use] Islamic slogans. He said this is a coalition for rule of law," Othman says. "People were more attracted toward Maliki because of this — and don't forget, he's the prime minister."
This election marked the first time that large numbers of Iraqi Sunnis went to the polls. They largely boycotted the last elections in 2005.
Now, Sunni parties are in a position to gain effective control over four provincial councils. That includes Nineveh Province in the north, where the Kurdish minority had controlled the local government as a result of the Sunni boycott. Now Al Hadba, a Sunni coalition, has garnered nearly 50 percent of the votes, the most dominant win in any of the provinces.
While final results won't be known for weeks, politicians already are turning their attention to national elections about a year from now.
While Maliki and his Dawa Party did well this time, they only did so in Shiite areas — and often by only a few percentage points. Abadi, the Dawa legislator, says the party now wants to broaden its base of support.
"I think we have put our foot on the right path now," Abadi says. He predicts that in the national elections, his party will not have to form a coalition based on sectarian alliances.
If so, the breakup of sectarian alliances would be a major shift in Iraqi politics.