January A Cold Month For Employees, Job Seekers
The Labor Department reported grim economic news on Friday. Employers eliminated 598,000 jobs in January — the most since 1974. Cost-cutting employers are in no mood to hire. The unemployment rates stands at 7.6 percent.
U.S. Jobless Rate Rises To 7.6 Percent In January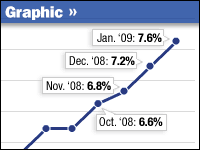 Planet Money
More Americans lost jobs in January than in any month in the past 34 years, adding to the nation's strained unemployment rolls as the Obama administration tries to pull the economy out of a tailspin.
The Labor Department said employers slashed 598,000 jobs in January, the deepest cut in payrolls since December 1974, pushing the unemployment rate up to 7.6 percent. The latest figures, which follow a revised 577,000 losses for December, were even worse than economists had forecast. The consensus had predicted a 7.5 percent rate.
On Thursday, the Labor Department reported that the number of new weekly jobless claims had hit the highest level since 1982.
The manufacturing sector bled 207,000 jobs after cutting 162,000 in December. Construction industries cut 111,000 jobs in January after shedding 86,000 in December. Retail businesses cut an additional 45,000 positions after reducing 82,700 in December. The economy has lost 3.6 million jobs since the start of the recession in December 2007.
"These numbers certainly tell the tale. They tell us this is a very severe recession," Hugh Johnson, chief economist at Johnson-Illington Advisors, told NPR.
Johnson said it was "clearly a much bigger job loss" than economists had been predicting.
Consumer Borrowing Drops
In a separate report, consumer borrowing fell for a third straight month in December, the longest stretch in 17 years, as households cut spending amid a steep recession and rising job layoffs.
The Federal Reserve said consumer borrowing dropped at an annual rate of 3.1 percent in December.
Total borrowing dropped by nearly double the amount economists expected.
The weakness in December reflected a big 7.8 percent decline in the category that includes credit card debt, and a 0.2 percent drop in the category that includes auto loans.
The latest grim news came on the same day that President Obama named his Economic Recovery Advisory Board, which will be charged in part with finding a way to address the millions of people who are out of work.
Obama Pushes Stimulus Plan
The president is also pushing ahead with his more than $900 billion economic recovery package, which has run into trouble in Congress among Republicans and some Democrats.
"If there is anyone, anywhere, who doubts the need for wise counsel and bold and immediate action, consider the devastating news we just received this morning," Obama said, referring to the unemployment figures.
"I am sure that ... members of the Senate are reading these same numbers this morning," he said. "I hope they share my sense of urgency and draw the same, unmistakable conclusion: The situation could not be more serious."
"It is inexcusable and irresponsible to get bogged down in distraction and delay while millions of Americans are being put out of work. It is time for Congress to act. It is time to pass an economic recovery and reinvestment plan to get our economy moving again," he said.
Obama has tapped former Federal Reserve Chairman Paul Volcker to lead the Economic Recovery Advisory Board. Others on the 15-member board include former Securities and Exchange Commission Chairman William Donaldson, TIAA-CREF President and CEO Roger Ferguson and Harvard University economy professor Martin Feldstein.
Obama friend and campaign finance chairwoman Penny Pritzker also is on the board, as is Caterpillar Inc. Chairman and CEO Jim Owens and General Electric Co. CEO Jeffrey R. Immelt. Two labor officials — Anna Burger of Service Employees International Union and Richard L. Trumka of the AFL-CIO — were named to the board.
From NPR staff and wire reports