What Does The Future Hold For The FDA?
What Does The Future Hold For The FDA?
The recent recall of salmonella-tainted peanut butter products is just the latest of a string of regulatory failures by the ailing Food and Drug Administration. Former FDA official William Hubbard discusses major problems facing the FDA and proposals for how to fix them.
A New FDA Chief Will Take Over Agency 'At Risk'
A New FDA Chief Will Take Over Agency 'At Risk'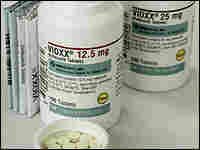 One key post the White House has yet to fill is that of FDA commissioner. It's a tough one. Over the past 12 years, the Food and Drug Administration has had a permanent commissioner less than half the time.
The agency also has come under attack in recent years for its handling of food and drug safety issues.
A few years ago, the FDA was the subject of intense congressional scrutiny for not dealing with problems with the painkiller Vioxx early on. Members of Congress have accused the FDA of squelching dissenting opinions among some of its drug reviewers, of ignoring conflicts of interest among some of its outside advisers, and of being too close to the drug industry, which pays hefty fees to have new drugs reviewed.
Whoever becomes commissioner will be taking over an agency that the government's own investigators have judged to be "at risk." A Government Accountability Office report last month stated that the FDA "is facing significant challenges that compromise its ability to protect Americans from unsafe and ineffective products."
FDA watchers say the agency needs more power and money to do its job well.
"The agency is at a tipping point," says William Hubbard, who was the associate commissioner for policy and planning at the FDA for 14 years. "The budget is in terrible shape, and the challenges are escalating."
On the food front, consumer advocates and politicians say the agency should have had better inspection procedures in place. Ideally, such procedures would prevent outbreaks like the salmonella outbreak that has been traced to a single manufacturing plant in Blakely, Ga.
"The FDA ... doesn't have the legal tools or the resources, the staff and inspectors to prevent these outbreaks," says Caroline Smith DeWaal of the Center for Science in the Public Interest.
A new commissioner also will have to deal with a move on Capitol Hill to split off the FDA's food safety division and create a whole new agency. The GAO report lists other challenges for the FDA — including improving inspections of foreign drug manufacturing plants and ensuring that drug companies that win provisional approval to market their products deliver on promised safety studies.
Once President Obama nominates a new commissioner, that person will have to be approved by the Senate. A White House spokesman has said a nomination is imminent.