Army Suicides At Highest Rate Since 1980
Army Suicides At Highest Rate Since 1980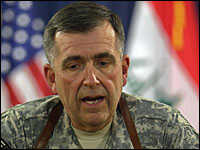 In January, 24 U.S. soldiers are believed to have committed suicide — seven confirmed cases and 17 more awaiting confirmation.
By comparison, last January there were only five suicides in the Army.
Last month's total is not just the highest monthly total since the Army started counting in 1980; it is more deaths than were sustained in combat last month by all branches of the armed forces combined.
Gen. Peter Chiarelli, vice chief of staff of the Army, says that the Army is actively looking into the deaths and is trying to figure out why the suicides are happening.
"If we knew why, in every single instance we would, in fact, be able to stop this problem," Chiarelli tells NPR's Robert Siegel. "We've got to try to find out why the numbers continue to go up."
Chiarelli says that nothing out of the ordinary happened in January that might account for the spike. The Army says that the suicides are higher among men and younger soldiers, but the number of deaths is about equal among those who are deployed, those who have deployment history and those who have never deployed.
The Army is busy developing resources to offer people who have serious troubles or depression.
"We've done a lot to increase our resources in the last year," Chiarelli says, "but I will tell you one of the things that we have to do is to take away the stigma of asking for help."
Chiarelli says that though the military "is a stressed force," repeated deployments might not be a contributing factor.
"We've got soldiers on our third and fourth deployments, yet when we look at those numbers, we see them no more likely to commit suicide than a soldier who is on his first deployment," he says. "When soldiers come home, they have some of the same issues when it comes to economic issues, relationship issues that other folks have that are, we know from past experience, contributors to those who commit suicide. There are all things that we've got to take a look at."
Chiarelli stresses that January's spike in suicides is "not business as usual."
"We are going to look at every single facet of the Army to make a determination on what we can find out and what we need to do," he says. "But one of the things that I've been stressing is the need to go back to do the things that we did so well for so long.
"And one of the things we want to ensure is that as stressed as the Army is today, as busy as it is today, that it's not forgetting those things that kept our suicide numbers far below civilian suicide in the past and make sure that we're doing those basic things — never leaving a buddy behind, asking him if he needs help, and if he needs help and we determine if he needs help, ensuring that we get him to the proper help, either to a chaplain or to a mental health provider."