Jobs Plunge Shows Economy In 'Freefall'
Jobs Plunge Shows Economy In 'Freefall'
Nicholas Kamm/AFP/Getty Images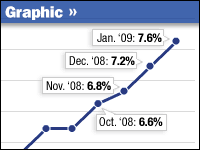 Economists predicted it would be bad, but it was even worse than expected: U.S. businesses continued to lay off workers at a frantic pace in January, according to the Labor Department. Nearly 600,000 jobs were cut from payrolls and the nation's unemployment rate jumped to 7.6 percent — its highest level since 1992.
The loss of 598,000 jobs in January is the worst monthly decline since 1974. And downward revisions for previous months showed almost that many jobs were cut in November as well. Over the past three months, the U.S. economy has shed more than 1.5 million jobs.
Mark Zandi of Moody's Economy.com says the economy is "in freefall."
"Businesses are panicked. They're fighting for survival and that means they're slashing investment and jobs," he says.
Zandi says businesses know banks aren't interested in giving them new loans so they are desperate to preserve cash and are frantically cutting costs. And, for most businesses the biggest cost is labor. Zandi says Friday's numbers suggest job losses are accelerating, not bottoming out.
No Sign Of Stabilization
The economy has lost 3.6 million jobs since the recession began.
"So the problems are intensifying — no sense of any stabilization. In fact, things seem to be unraveling," Zandi says.
At the White House, President Obama seized on the massive job losses to put pressure on Congress to pass the stimulus package.
"These numbers demand action," Obama said of the unemployment report. "It is inexcusable and irresponsible for any of us to get bogged down in distraction, delay or politics as usual while millions of Americans are being put out of work."
The president reminded the audience that had gathered for the introduction of his Economic Recovery Advisory Board that the reduction in jobs is not just an abstraction.
"Somewhere in America, a small business has shut its doors; somewhere in America, a family has said goodbye to their home; somewhere in America, a young parent has lost their livelihood, and they don't know what's going to take its place," Obama said.
"These Americans are counting on us, all of us in Washington. We have to remember that we're here to work for them. And if we drag our feet and fail to act, this crisis will turn into a catastrophe."
Stimulus Stalls
While the stimulus package has passed the House, it's run into trouble in the Senate. Republicans have criticized it for not having enough tax cuts. A bipartisan group of senators said that its cost, now more than $900 billion, is just too high. They're trying to find $90 billion in spending cuts. Obama has said the package needs to be at least $800 billion.
But Zandi says the stimulus package is not big enough.
"Given the severity of the situation, the overall package is too small. It should be bigger," he says. "The fact the economy needs help now ... that argues for more tax cuts — temporary tax cuts."
Zandi says the fastest and most stimulative tax cut would be a temporary payroll tax holiday in the third quarter of this year. Allowing both businesses and workers to forgo payment of those Social Security and Medicare taxes for three months late next summer would put money in their hands when they'll need it most.
Stocks rose sharply after the jobs report. Analysts said that's because investors believe the bleak news on jobs will force Congress to pass the stimulus quickly.