Employees Take To Cyberspace To Vent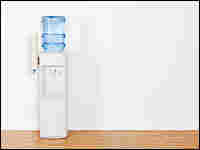 It used to be that if you wanted to gossip about your employer, the place to go was the water cooler.
But these days, employees are increasingly going online to find out what's really going on at their company, as well as to let off steam about the frustrations of corporate life.
The anonymity of many parts of the Web — paired with how easy it is to, say, create a Google discussion group or a Web forum — means there's a place for employees of almost any industry to gather and talk about work: what they like, what they don't like — and even how they rate their CEO.
A Variety Of Sites
"There is a Web site for pretty much any industry you might be a part of. Whether you work for the government, whether you're a truck driver or maybe if you work for Target, there is a Web site or a Web forum devoted to griping about the kind of work that you do or your work conditions or your boss," Omar Gallaga tells host Melissa Block.
Gallaga, who covers technology culture for the Austin American-Statesman, says one site he's looked at is IhateDELL.net, a gathering point for employees, ex-employees, customers and anyone else who has a gripe with Dell. Employees consistently talk about any plant closings, layoffs or other news from within the company, Gallaga says.
Recent posts have focused on the company's stock price and on stories in the media about how the company has been doing the past two years since Michael Dell returned to the CEO position. Someone also posted a scathing letter to a manager this past weekend that they supposedly sent upon leaving the company.
The person writes: "In all the years I have worked, I can honestly say you are the absolute WORST 'manager' I have ever seen. It is obvious to EVERYONE ON THE TEAM that you have zero people skills, no clue on how to manage people, and are in way over your head."
It's the kind of thing you'd expect to see on The Office, but not something you generally are privy to in the real world, Gallaga says.
Management Responses
Is there anything a manager can do if they come across negative feedback?
Because a lot of it is anonymous, it's not always easy to figure out how to deal with things that are posted online directly, Gallaga says.
But some companies are taking the feedback on review sites like glassdoor.com and jobvent.com, and using it to try to create a better workplace.
One executive coach says that negative venting online can be a blessing in disguise for companies if it helps them learn to give employees what they're looking for.
Several years ago, Dell began more closely monitoring what forums and blogs were saying about the company and responding directly to complaints. They also created an internal network, called Idea Storm, where employees can post feedback. It's not anonymous, but it does give workers another avenue to help improve the company with their ideas.
If a company acts on those ideas and suggestions, it can make employees feel more invested in their workplace. Especially in tough economic times, companies need to do all they can to keep morale up.