Fallout From Peanut Contamination Hurts Farmers
Fallout From Peanut Contamination Hurts Farmers
Web Resources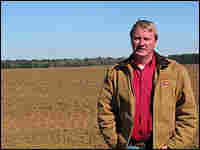 Salmonella contamination traced back to a Georgia peanut processing plant has sickened nearly 600 people in 44 states and may have contributed to eight deaths. The outbreak has led to a federal investigation and one of the largest food recalls in U.S. history.
On Monday, the FBI raided the Peanut Corporation of America's plant in Blakely, Ga., and headquarters in Lynchburg, Va. And on Tuesday, the company announced it voluntarily suspended operations at a second processing plant in Plainview, Texas, that reportedly operated unlicensed and uninspected for years.
Peanut farmers have reacted powerfully to the salmonella contamination. Farmers in Georgia, the nation's largest peanut-producing state, released a statement expressing disdain for the Peanut Corporation of America.
"It's not an issue that's a farmer issue, but it sure has had a severe impact on our farmers," says Don Koehler, executive director of the Georgia Peanut Commission.
The fallout is hurting the roughly 5,000 peanut farmers in the state, who say they had nothing to do with the contamination. About 1,800 products have been recalled, scaring consumers away from buying peanut products. That means shellers, who buy the nuts, are not making contracts with farmers.
"This is uncharted territory," Koehler says. "It won't mean that we won't plant any peanuts, but it'll certainly mean that we'll have a significant reduction in acres of peanuts because farmers can't put their whole farm at risk, right there, for something that's an unknown."
Largest Peanut Crop In History
On the edge of Early County, deep in southern Georgia, peanuts are grown on sprawling farms amid tall pine trees and grazing cattle. Mike Newberry's farm isn't too far from the Peanut Corporation of America's processing plant.
"We are still all just reeling from what has happened in Blakely," says Newberry, a fourth-generation farmer.
Newberry says it couldn't have happened at a worse time. Farmers produced the largest peanut crop in U.S. history last year, so warehouses still have a large supply of nuts. The economy is suffering, and now demand for peanut butter and all peanut products is down 25 percent to 30 percent.
"There's no question it hurts my bottom line," Newberry says.
As a result of the salmonella contamination, farmers say they'll plant up to 30 percent fewer peanut acres this year than they did in 2008. Last year, they earned $525 a ton for their peanuts. This year, Newberry says the best he can make is about 70 percent of that.
"We are ready to move on," Newberry says. "And it's not that we're ready to run away from this. We're ready to get this solved because this happened right under our nose. This happened where I pass five times a week. We don't want that to happen."
A Review Of FDA Operations
The Food and Drug Administration is under fire for failing to catch problems at the Peanut Corporation of America plant. The agency says managers sent out tainted peanut paste and peanut butter, even though they knew the products were contaminated.
The recall linked to the Georgia plant is widespread because peanut paste is an ingredient in so many foods, including cookies, crackers and snack bars. Earlier this month, President Barack Obama promised a complete review of FDA operations.
"At bare minimum, we should be able to count on our government keeping our kids safe when they eat peanut butter," Obama said.
Georgia farmers agree with the president.
In Calhoun County, Ga., Jimmy Webb is already preparing his fields, turning over the sandy soil he's farmed for more than 20 years. Webb is frustrated.
"You know, you're kind of in that situation where we trust each other," Webb says. "We were trusting manufacturers that they were doing the right thing."
Webb says it's difficult for him to watch as farmers and consumers suffer the consequences from one plant.
"As a mama, you're not going to give your child a peanut butter and jelly sandwich until you know for sure that it's safe — and I can't blame them," Webb says. "I hope that the public will not give up on peanuts."
Farmers are already talking about launching public relations campaign to remind consumers that they didn't do anything wrong and most peanuts are safe.
But everyone still has a lot of questions about the contamination. Late Tuesday, members of Congress issued a subpoena for the president of the Peanut Corporation of America to appear at a hearing Wednesday to answer their questions.