A-Rod Admits Using Performance Enhancers
A-Rod Admits Using Performance Enhancers
Baseball slugger Alex Rodriguez admitted Monday that he used performance-enhancing drugs from 2001 to 2003, while playing for the Texas Rangers. He blamed the pressures of being baseball's highest-paid player. Sports Illustrated reported last week that A-Rod tested positive for steroids in 2003.
LINDA WERTHEIMER, host:
In the ongoing saga of doping in sports, the latest revelation was a huge one. Baseball's preeminent star, Alex Rodriguez of the New York Yankees, admits that he used banned drugs.
Mr. ALEX RODRIGUEZ (Major League Baseball Player): You know, I got caught up in this everybody's doing it era, and I feel, you know, deep regret for that.
WERTHEIMER: Those comments were yesterday on ESPN and followed a weekend article that said Rodriguez tested positive for steroids in 2003. NPR's Todd Goldman reports.
TODD GOLDMAN: Going forward there will be tons written and said about Alex Rodriguez's moment of truth. Some will criticize him for not being truthful enough. He claims not to know which drugs he took during a period from 2001 to 2003 and from whom he got them. But even the most skeptical have to acknowledge A-Rod's admission certainly stood out from the parade of doping denials in recent years by baseball's elite, from alleged drug takers like Roger Clemens...
Mr. ROGER CLEMENS (Major League Baseball Player): Let me be clear, I have never taken steroids or HGH.
GOLDMAN: ...and Barry Bonds...
Mr. BARRY BONDS (Major League Baseball Player): All of you have lied. All of you have said something wrong. All of you have dirt.
GOLDMAN: ...to those who tested positive like Rafael Palmeiro...
Mr. RAFAEL PALMEIRO (Major League Baseball Player): Let me start by telling you this: I have never used steroids, period.
GOLDMAN: Even A-Rod was part of the parade. In 2007, Katie Couric interviewed him on CBS's "60 Minutes."
(Soundbite of TV show, "60 Minutes")
Ms. KATIE COURIC (CBS Anchor): For the record, have you ever used steroids, human growth hormone, or any other performance-enhancing substance?
Mr. RODRIGUEZ: No.
GOLDMAN: But that was before Sports Illustrated broke the story this past weekend that Rodriguez was one of 104 players who tested positive for banned performance-enhancing drugs in 2003. Faced with that, he sat down opposite ESPN's Peter Gammons yesterday and said, yes, he had used for three years starting in 2001. He was with a new team, the Texas Rangers, after having signed the richest contract in sports history, $252 million over ten years. Rodriguez said he felt enormous pressure to perform.
Mr. RODRIGUEZ: So I felt like I needed something, a push, without over-investigating what I was taking, to get me to the next level.
GOLDMAN: Those seasons in Texas statistically were three of his best. In 2004, he signed with the Yankees, baseball's highest profile team. In recent years, people with doping suspicions about Barry Bonds held up A-Rod as the clean player who would someday surpass Bonds as the all-time home run leader. Gammons asked Rodriguez whether he worried about that praise, knowing he used drugs.
Mr. RODRIGUEZ: Yeah, it worried me completely, absolutely. And today, although I know that people are going to be very disappointed, just like I am, I feel good about moving forward and doing things the way I've been doing it the last five years, and the way I did it prior to being in Texas.
GOLDMAN: Rodriguez says he hasn't used drugs since his Texas days, but admits it'll be hard to prove that to all baseball fans. He says telling the truth gets a gorilla off his back, but one wonders how easy it'll be to move on, for him and for baseball. Spring training starts next week, normally a time of hope and excitement; it's yet again clouded by a doping era that doesn't seem to go away.
Tom Goldman, NPR News.
NPR transcripts are created on a rush deadline by Verb8tm, Inc., an NPR contractor, and produced using a proprietary transcription process developed with NPR. This text may not be in its final form and may be updated or revised in the future. Accuracy and availability may vary. The authoritative record of NPR's programming is the audio record.
Baseball's Alex Rodriguez Admits Steroid Use
NPR's Tom Goldman On A-Rod's Confession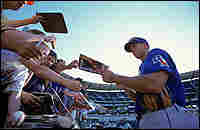 Jeff Gross/All Sport/Getty Images
Alex Rodriguez admitted Monday that he used performance-enhancing drugs from 2001-03, saying he did so because of the pressures of being baseball's highest-paid player.
"When I arrived in Texas in 2001, I felt an enormous amount of pressure. I felt like I had all the weight of the world on top of me and I needed to perform, and perform at a high level every day," the New York Yankees star said in an interview with ESPN that was broadcast Monday shortly after it was recorded.
His admission came two days after Sports Illustrated reported he tested positive for steroids in 2003, one of 104 players who tested positive during baseball's survey testing, which wasn't subject to discipline and was supposed to remain anonymous.
"And I did take a banned substance and, you know, for that I'm very sorry and deeply regretful. And although it was the culture back then and Major League Baseball overall was very — I just feel that — You know, I'm just sorry. I'm sorry for that time. I'm sorry to fans. I'm sorry for my fans in Texas. It wasn't until then that I ever thought about substance of any kind, and since then I've proved to myself and to everyone that I don't need any of that."
The 33-year-old All-Star third baseman was regarded by many in baseball as the most likely to break Bonds' record of 762 home runs. He's already 12th on the career list with 553 homers, 209 behind Bonds.
Rodriguez hit 52, 57 and 47 homers in his three seasons with the Rangers, winning the first of three American League MVP awards during his final season with Texas, where he received a $252 million, 10-year contract in December 2000.
"Back then it was a different culture. It was very loose. I was young. I was stupid," Rodriguez said. "I was naive, and I wanted to prove to everyone that, you know, I was worth, you know — and being one of the greatest players of all time."
He joined Jason Giambi and Andy Pettitte among All-Star players who have confessed to using performance-enhancing drugs. Many other players have denied any use.
Barry Bonds, a seven-time MVP, is to go on trial next month on charges he lied when he told a grand jury in 2003 that he never knowingly used performance-enhancing drugs.
Roger Clemens, a seven-time AL Cy Young Award winner, is under investigation by a federal grand jury that is trying to determine whether he lied when he told a congressional committee last year that he never used steroids and human growth hormone.
In his 2008 book, Vindicated: Big Names, Big Liars, and The Battle to Save Baseball, Jose Canseco claimed he introduced Rodriguez to a steroids dealer. Canseco, who has admitted using steroids, subsequently said he had no knowledge of any drug use by Rodriguez.
"They are looking in the wrong places," Canseco said in a text message to The Associated Press. "This is a 25-year cover-up. The true criminals are Gene Orza, [union head] Donald Fehr and [commissioner] Bud [Selig]. Investigate them, and you will have all the answers."
SI said that Orza, the union's chief operating officer, tipped off three players in September 2004 that they would be tested. Orza has repeatedly denied that he tipped off players, saying he merely reminded them late in the season that if they had not yet been tested, baseball's drug agreement required them to be tested by the end of the regular season.
Orza, who has been widely criticized by media since the SI report, said in an e-mail to The Associated Press that he doesn't care what the media say.
"I know the facts," Orza wrote.
Rodriguez said Orza told him in August or September 2004 about the list of names that had been seized by federal investigators.
"He said there's a government list. There's 104 players in it. You might or might not have tested positive," Rodriguez said.
SI.com reported that Rodriguez tested positive for Primobolan and testosterone.
"It was such a loosey-goosey era. I'm guilty for a lot of things. I'm guilty for being negligent, naive, not asking all the right questions," Rodriguez said. "And to be quite honest, I don't know exactly what substance I was guilty of using."
Monday's ESPN interview directly contradicted a December 2007 interview with CBS's 60 Minutes, when Rodriguez said "No" when asked whether he had ever used steroids, human growth hormone or any other performance-enhancing substance.
On Friday, Rodriguez is still expected to attend an event at the University of Miami, which is renaming its baseball field in his honor.
He gave $3.9 million to the school in 2003, the largest gift ever to the Hurricanes' baseball program and money that provided much of the resources needed for renovating the existing on-campus stadium. In return, the baseball complex will be called Mark Light Field at Alex Rodriguez Park.
Despite the scandal, the facility will continue to bear Rodriguez's name, a university official said Monday. The official spoke on condition of anonymity because of the matter's sensitive nature.