Author Daniel Bergner Explores Erotic Longings
Author Daniel Bergner has written about violent convicts serving life without parole at Louisiana's Angola Prison and about war in Sierra Leone.
In his new book, The Other Side of Desire, Bergner explores paraphilia: erotic drives that fall well outside normal zones.
Bergner calls them "the far realms" of lust and longing. For Bergner, exploring this world meant setting aside his own judgments.
"The erotic is this profound, extremely powerful force within us," Bergner tells NPR's Melissa Block. "No matter what we do with it — tamp it down, or push it to the side, or live with it consciously every day — it's there. And I wanted to be inside of that. I wanted to immerse myself in it. And that did mean at times letting go of moral codes in the hope of a kind of erotic vision."
The first person Bergner explores is Jacob Miller — a name made up to protect his identity — who has an extreme foot fetish. Miller would be both thrilled and tortured just to hear the word "foot," even in the context of a weather report or talking about the square footage of a home. Bergner says it's a story that "should be lighthearted," but it's "self-devouring and tragic" because of Miller's shame of being at odds with the norms of the culture.
"For me, his story reflected on the way all of us — all of our erotic longings — come up against cultural norms and codes and restraints," Bergner says.
But because of Miller's extreme case, and because he's tormented by his difference, he sees a well-known psychiatrist who specializes in sexual desires. Fred Berlin chemically treats Miller to counter the desires. Bergner says he finds this sad.
"I very, very much respect Dr. Berlin, he's an incredibly compassionate, heroic psychiatrist who has dealt with all sorts of sexual desires. But I felt like there was a hesitance to allow Jacob to be Jacob erotically. And especially because his drive was harmless, I thought, well, maybe take away the shame and allow Jacob to explore his sexuality and see where that might lead," Bergner says.
Another character Bergner explores is Roy, who was convicted of fondling his stepdaughter, who was 12 years old when the abuse started. Bergner says it's the story that "brought morality the most to the fore."
When Bergner was writing the chapter, his own daughter was 12 years old, which created a "really intense and troubling juxtaposition," he says.
"Roy was on, in a sense, his own journey of introspection, of trying to figure out how this had happened to him," Bergner says. "He'd had no prior record; in fact he's had no reoffenses since. He was trying to burrow deep. I wanted to go there with him."
Bergner says he did talk with the victim's parents about the "troubling story."
What Bergner found especially troubling, he says, was that Roy was smitten with the girl in a "kind of Lolita-type way" and was making "overt, shocking propositions to her over the Internet." But everyone around him was testifying that he's an "upstanding, caring and crime-free man."
Bergner also went to Roy's treatment group for a year, and his therapist insisted that Roy's level of sexual desire, even when tested in labs, wasn't aberrant.
"It wasn't his desire that was aberrant, it was his loss of control; it was his stepping over the line and acting that made him criminal," Bergner says.
But Bergner says he is not trying to excuse Roy's behavior.
"And yet, in order to do my job, I had to keep my mind open to his exploration," Bergner says. "Was there an inclination on my part to condemn him? Yes. But that inclination could never get me to understanding, and I really wanted to reach that point of understanding with all of my characters.
Bergner says he thinks he did understand what was going on in Roy's mind at the time.
"But I think it's a long, long leap in terms of what's going on his mind and actually making the propositions that he did, touching his victim in the way that he did. That's a distance that I may not fully be able to cross," Bergner says.
Ultimately, Bergner says the outcome of his book — with the exception of Roy — was that he thinks people and culture impose too many constraints on desires.
"I hope there might not have to be so many desires we can't bear," he says. The other stories are about "lust that really can be fulfilled and can really lead people to places that I think are profound and that sort of spark something — either self-discovery or a real deep connection between people — to look at ourselves in a way that might reveal something we wouldn't otherwise be able to see."
Excerpt: 'The Other Side Of Desire'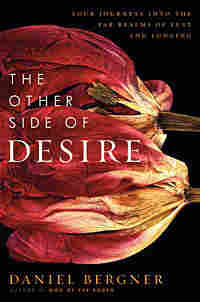 Jacob Miller loved Toronto. He thought of it every day. He was American, and lived in a snowy American city, but a Canadian flag, with its broad bars of red and its red maple leaf, hung in his home office. A printout of the flag, on a sheet of computer paper, was taped to the wall between his kitchen and dining room.
Pasted to the rear window of his car, a flag decal hinted at his love. When he dressed casually in wintertime, he favored a letterman's-style jacket. The leaf, big and bright, adorned the back.
If he'd won the lottery, he would have retired and moved to Toronto. If he could have designed his own world, that city would have occupied his entire planet. "When we had our son, I wanted what I call a T-R name," he said, laughing at himself. "Tristan. Troy. Trice. I didn't tell my wife why. I didn't tell her, 'Because it would remind me of Toronto.' She said, 'I'm not naming him Tristan, kids are going to make fun of him.
I'm not naming him Troy.' She said, 'What kind of name is Trice?'"
Toronto was a realm where everyone was accepted. On Yonge Street, during a visit in his twenties, twenty years in the past, he'd seen the kids in their punk gear, the parents pushing strollers, the beggars with their cups, the prostitutes in their spandex, the gays hand in hand, all intermixed, passing each other on the sidewalk, tolerating each other, yes, but more than that, seeming tacitly to welcome each other. He'd filled the beggars' cups. Toronto, he felt, was a place even for monsters, a city for men such as himself.
Jacob owned a tidy wooden house not far from downtown in the city where he'd grown up. In the living room, plants cascaded from the mantelpiece; a flat-screen TV was mounted above the greenery. The furniture was soft and stylish. A small white-haired dog trotted across the carpet. The ashes of another, a terrier-beagle he still mourned a decade after its death, sat on a shelf in a box painted gold.
In the driveway, in the months when it wasn't covered in snow, he played basketball with his eight-year- old son, his only child. Ben was dark-haired, frail. They shot at a portable hoop Jacob had bought, lowered to a height the boy could manage. Jacob himself had never been much for sports, but Ben had lately taught him to play Pig. "It's easy,
Pop!" he'd cried out. "It's easy!" So they shot and talked, shot and talked. Ben had
suffered a stroke during his fifth month in the womb and had cerebral palsy. In the winter months, Jacob was teaching him to ski.
He'd been married to Ben's mother for sixteen years. He'd thought her beautiful when they met; he thought her beautiful now. "I've had men say to me, 'You're a lucky guy.'" She had a profusion of black hair and smooth olive skin and large dark eyes. She was petite and full-breasted. She'd come from a small town, and he took her, on their first date, to a restaurant she saw as dazzling. Over a dinner much more expensive than she was used to, he learned about her job for an airline, at a ticket counter, which allowed her to fly for free. This struck him as glamorous. And he told her about his success as a salesman.
"This gorgeous woman," he remembered. "She put me on a pedestal, and I put her on a pedestal."
He still felt they were wonderfully matched. "We're homebody people," he said, listing the things they loved to do together: sit on the porch and watch Ben ride his bicycle or his electric scooter; go to craft shows and collect southwestern ceramics decorated with a flute-playing figure called Kokopelli. After sixteen years, they still called each other from work three or four times a day.
Jacob had put together this life of comfort and love despite at least two relevant obstacles. One was a learning disability so extreme that, in his mid-forties, he could read sentences and calculate numbers no better than most fourth-graders. He'd been given special glasses as a child, with cardboard frames and one green and one red lens. For much of each school day, he'd been made to wear this clownish gear.
The remedy hadn't worked; the only way he'd kept up at all was that classmates read his assignments into a reel-to-reel, and at night he lay in bed, listening. When Jacob was in his late thirties, the head psychiatrist at the hospital of Johns Hopkins University had used him to instruct his students.With Jacob's consent, the psychiatrist had placed him within a U of sixty pupils, and asked him to imagine having seventeen apples and giving away five — how many would he have left? Jacob couldn't answer. There were more questions like it, and a simple paragraph he stumbled through and couldn't comprehend. Then, after the stymied gasps of the psychiatrists-in- training, the head made his point about people's ability to overcome. For Jacob was prosperous, thriving in his job. He kept his customers, across a vast swath of territory along the Great Lakes, unfailingly supplied in the goods he handled, and he supervised a team of junior salespeople. Painstakingly, he managed never to jumble his accounts. He could have carried out his business almost entirely by phone and the Internet, but, always anxious that no one should be unhappy with him, he drove for hours and hours each day to present himself in person, a slightly short, husky man, neatly dressed in a jacket and turtleneck or tie — just to shake hands and chat for a few minutes, just to ask his customers if they had any complaints and reassure them that he would make all adjustments.
The second obstacle had to do with sex. Jacob was, in psychiatric terms, a paraphiliac, the word being an amalgam of two ancient roots, para meaning "alongside" or "beyond" and philia meaning "love." The focus of his love, the focus of his desire, fell outside the normal zones. He was drawn to women's feet.
Excerpt from The Other Side Of Desire: Four Journeys into the Far Realms of Lust and Longing by Daniel Bergner with permission from Ecco, an imprint of HarperCollins Publishers. Copyright © 2009. Available wherever books are sold.