Photographer Reflects on Jazz Giants, Storm Losses
Photographer Reflects on Jazz Giants, Storm Losses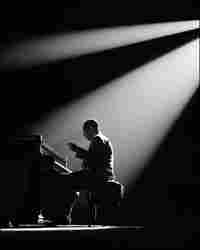 Photographer Herman Leonard, 84, captured jazz giants like Billie Holiday and Miles Davis on film as they worked in smoky, cramped, late-night clubs. But he almost lost his amazing collection to Hurricane Katrina.
As the storm bore down on New Orleans, Leonard rushed most of his negatives to a vault at a museum near his home. However, thousands of his prints were lost to the flood waters.
Some of the photos that were salvaged went on display last month at the Ogden Museum of Southern Art in New Orleans. And Leonard's latest book, Jazz, Giants and Journeys, includes a full collection of photos that span his long career.
Leonard tells Michele Norris he's grateful for what he was able to salvage from the storm, but much like favorite recipes, photographic prints never turn out the same way twice. He hasn't moved back to his home city of New Orleans, and says he'll live there again only if the city can regain some semblance of what it once was.
During his career, Leonard took hundreds of pictures of Davis, who he has described as his favorite artist to photograph. He also captured Holiday in her kitchen and in a killer pair of shoes. Leonard said the small chains attached to the shoes caught his attention.
"I thought to myself, this sort of epitomizes her life. She was in chains most of the time. She never really had any full control of her own life," he says. "I like to photograph images — particularly of well-known people — where you don't see their face, but the image does express part of their personality."
Flood Imperils Work of Famed Jazz Photographer
Flood Imperils Work of Famed Jazz Photographer
Photo Gallery
Herman Leonard has been called the Charlie Parker of photography. His dramatic black and white images of jazz greats such as Dizzy Gillespie, Thelonious Monk -- and Parker himself -- helped create a visual record of one of the most fertile periods of jazz. A great deal of that record may have been lost or damaged in the floods that followed Hurricane Katrina.
More Leonard Photos
On Aug. 27, as the storm approached New Orleans, the 82-year-old Leonard, his manager and a small group of friends scrambled to save as many of his photos as they could, hustling them to the third floor of his home. The negatives are in a museum vault that Leonard says remains above the flood waters... though it likely lost all climate control.
But he's heard the studio and darkroom on the first floor of his house were submerged under eight feet of water.
His daughter and her family had recently moved to New Orleans to be closer to him. They lost nearly everything to the hurricane and flood.
Now Leonard and family wait in Los Angeles for the chance to return and find out what's left.
The Smithsonian has more than 130 Herman Leonard photographs in its permanent collection, spanning a career that began when he was a photography student at Ohio University in 1940. Leonard eventually found work as a portrait photographer in New York. To blow off artistic steam, he would hang out at jazz clubs along 52nd Street and take pictures.
Leonard is putting a brave face on his situation. "That's all right," he says. "It gives me incentive to get back in the darkroom and start printing again."