U.S. Braces for (Indian) Mango Madness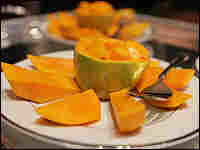 Imports of Indian mangoes, which already account for almost half the world's mango output, are expected to hit U.S. stores over the next month. A new trade agreement lifts a U.S. ban on Indian varieties of the fruit that was implemented in the mid-1980s over concerns about fruit flies.
Bhaskar Savani, a Philadelphia dentist who was among the first to import Indian mangoes under the new rules, tells Robert Siegel that American mango-eaters have been missing out for years.