Anything for Love: 'La Clemenza di Tito'
From the Washington National Opera
THE HIT SINGLE
In Act One, determined to win Vitellia's love, Sesto sings the longing aria "Parto, parto." This recording is by mezzo-soprano Cecilia Bartoli.
'"Parto, Parto," from Mozart's "La Clemenza di Tito"
The B Side
Mozart wrote so much great music for La Clemenza di Tito that one of its most beautiful numbers is given to a pair of secondary characters, Annio and Servilia. It's the love duet "Ah, perdona," sung in this recording by mezzo-soprano Magdalena Kozena and soprano Lisa Milne.
"Ah, perdona" from Mozart's "La Clemenza di Tito"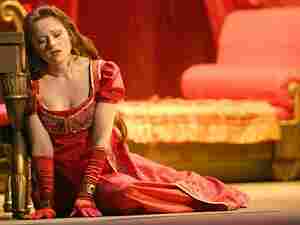 Do you remember the popular song "I Would Do Anything for Love (But I Won't Do That)," a 90's hit by Meat Loaf? The song's title, with its love-struck message, could easily sum up the plotline of Mozart's opera La Clemenza di Tito — but only if you get rid of "(But I Won't Do That)."
The opera's lusty story features one character who really will do anything to bolster his love life. The guy's name is Sesto, and he lives in ancient Rome. When the woman he pines for gets dumped by Emperor Tito and wants revenge, Sesto agrees to burn down the entire city of Rome, hoping to roast Tito alive in the process.
La Clemenza di Tito was the last opera Mozart ever composed, and it might be called a "put up job"; it was written to order as a sort of old-fashioned, occasional piece for a preening monarch.
Mozart composed Tito on a commission from the brand new king of Bavaria, who wanted a traditional opera about a benevolent monarch to entertain the minions at his lavish corononation festivities. Still, despite a stodgy libretto that required a time-worn dramatic structure, the music is mature Mozart at its finest, shot through with startling innovations and great beauty.
On World of Opera, host Lisa Simeone presents a production by the Washington National Opera, from the Kennedy Center for the Performing Arts in Washington, D.C. The remarkably strong ensemble cast includes tenor Michael Schade in the title role, mezzo-soprano Marina Domashenko as Sesto and soprano Marina Pavlovskaya as Vitellia.
See the previous edition of World of Opera or the full archive
The Story of 'La Clemenza di Tito'
WHO'S WHO?
Tatiana Pavlovskaya ......... Vitellia
Michael Schade ...................Tito
Marina Domashenko .......... Sesto
Jossie Perez ....................Annio
Hoo-Ryoung Hwang ....... Servilia
Nikolai Didenko ...............Publio
Washington National Opera Orchestra and Chorus
Heinz Fricke, conductor
The opera is in two acts, set in Rome around 80 A.D. during the brief reign of Emperor Titus — or Tito, in Italian.
ACT ONE opens in the home of Vitellia. She's the daughter of a former Roman emperor, and she's in love with Tito, who took the throne from her father. Vitellia is not happy, as she has just learned that Tito, whom she thinks is rightfully hers, has chosen to marry a foreigner named Berenice.
Vitellia's reaction is extreme. She calls on Sesto, a young man who is hopelessly in love with her, and tells him she wants the emperor dead by sunset — even though Sesto and Tito are longtime friends. Naturally, the emperor won't be an easy man to assassinate, so Vitellia tells Sesto to set fire to Rome, hopefully killing Tito in the process. Sesto can't resist her, and agrees.
When we meet Tito himself, he's displaying his trademark, imperial benevolence — organizing help for the victims of Mount Vesuvius. Tito tells Sesto that he's decided not to marry Berenice. He does love her, but she's a foreigner and he's afraid his people won't approve. Instead, Tito now wants to marry Servilia, Sesto's own sister.
But that's a problem, too, because Servilia already has a boyfriend, a man named Annio, a loyal Roman subject. So when Tito announces his intentions toward Servilia, Annio bites his tongue and doesn't object. He even agrees to tell Servilia himself. But Annio and Servilia are truly in love, as we hear in a duet that's one of the opera's most beautiful numbers.
Servilia, it turns out, isn't as compliant as Annio. She decides she loves Annio too much, and won't give him up just because the emperor wants to marry her. She goes to Tito and tells him she's already spoken for. Always agreeable, Tito says that's fine, he'll find someone else, and commends her for her honesty.
Meanwhile, Vitellia is more unhappy than ever. All she knows is that when Tito decided not to marry Berenice, he still didn't want her. She wasn't even his second choice. So Vitellia promises the love-struck Sesto that if he'll go through with their assassination plot, she'll marry him. True to form, he goes off to set the city on fire.
But just after Sesto leaves, Servilia shows up with an imperial guard named Publio. They've come to tell Vitellia that Tito won't be marrying Berenice or Servilia. Now, finally, he says he wants Vitellia, after all. That should be good news — but Sesto is already on his way. Vitellia wants to call him back, but it's too late. There's a red glow in the sky, and before long the entire city is in flames and the Roman people are in mourning for their Emperor.
As ACT TWO opens, Sesto learns from Annio that Tito miraculously survived the fire. Annio advises Sesto to confess to the emperor, and take his chances. After all, Tito is famous for his tolerance and generosity.
Vitellia shows up with another opinion, telling Sesto he should hightail it out of town. She's worried that if Sesto is arrested, Tito will discover her own role in the plot. But it's too late. Publio rushes in, and Sesto is hauled away in chains.
In the throne room, when Tito finds out that his good friend Sesto was responsible for the fire, he can't believe it; he's sure the tribunal will find Sesto innocent. But Sesto is convicted, and the tribunal recommends the death penalty.
Privately, Tito decides to spare Sesto's life, and has Sesto brought before him. The Emperor wants an explanation for his friend's behavior. Sesto is contrite, but he can't admit to much without revealing Vitellia's guilt as well — and in spite of everything the poor man is still in love with her. So he says nothing, and Tito has him taken away.
Meanwhile, Annio and Servilia confront Vitellia, who is now in line to become empress. They tell her to do the right thing, and help Sesto. Vitellia finally caves in. She can't allow her own good fortune to come at Sesto's expense.
In the final scene, while everyone is waiting for Tito to pronounce judgment on Sesto, Vitellia shows up in tears. She confesses that she was behind the plot all along.
Tito is astounded at the number of his friends who seem willing to betray him, but he's determined to prove that his own mercy is stronger than their evil. True to his nature, Tito forgives everyone. They all sing of his goodness and generosity, and ask the gods to grant him long life.