Harpist Brings Comfort To Emergency Room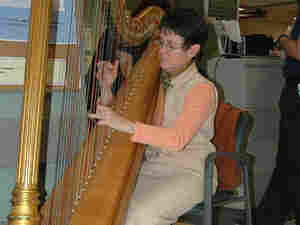 Courtesy of George Washington University Hospital
George Washington University Hospital in downtown Washington, D.C., is part of a small and unconventional medical movement. Once a week, this state-of-the-art facility pays a harpist to play in the emergency room to provide patients with a measure of comfort and calm.
About two dozen people sit slumped in the chairs outside the emergency room, while inside, nurses and doctors move briskly from one curtained examining room to the next, tending to the patients. Medical technicians wheel trays of instruments around the gurneys and wheelchairs scattered along the hallway. This is where harpist Jody Grossman begins her shift every Wednesday afternoon, her enormous gold harp squeezed into a small space in front of the nurses' station.
The hospital hired Grossman about 15 months ago, after she'd brought her harp in to play for a friend recovering from surgery; one of the doctors suggested she come regularly. At first, she just played in the lobby.
"I think the doctors and nurses weren't sure it was the right place for the music," Grossman says. "It took some time for us to get used to one another."
Chris Bey, a medical technician, was there the first day the harpist was allowed into the ER.
"It was Halloween, and someone had left a pair of angel wings in the suture room," Bey says. "So I put them on, and while she was playing, I came out from behind the curtain and started to dance around her harp."
The ER head nurse, Barbara Neiswander, says the music helps the patients.
"She came at Christmas, she was doing Christmas carols, and several patients said it was really nice to have something to listen to," Neiswander says. "In an ER, you're here for a long time, and passing time is really hard when you're waiting for your blood test, or you're waiting for the doctor to decide whether you should be admitted."
Leah Lujan, another ER nurse, adds that the patients aren't the only ones comforted by the music.
"Everybody responds brilliantly to it," Lujan says. "I wish she'd been here yesterday. It was just crazy."
"Secretly, I'm really there more for the nurses and doctors than the patients," Grossman says. "Most patients will leave, but the staff comes back day after day, and it's extremely stressful work."
Grossman has been playing the harp for 30 years. But her full-time job is as a kindergarten teacher, so while she's playing, just as when she's teaching, Grossman says she's responding to what's happening around her.
"I'm thinking about how to calm everything down," she says. "And I also listen for how to slow people down and slow down the atmosphere in the room."
Emergency-room head nurse Barbara Neiswander says that's exactly what the nurses and doctors need, because their work is so intense and unpredictable.
"It should slow us down a little bit," Neiswander says. "We need to slow down. We all go too fast."
Grossman says that playing music in the hospital has become an extremely rewarding part of her life. She calls it her "musical ministry."
"It's such a technologically advanced hospital, and yet it's not just machines, and it's not just surgery," Grossman says. "There's a human element to healing."
And at this busy urban hospital, the staff cares for both body and spirit with humanity's latest inventions — as well as one of its most ancient.