Clinton Aims To Build Up U.S.-Indonesia Partnership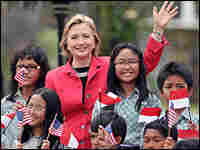 Bay Ismoyo/AFP/Getty Images
Secretary of State Hillary Clinton is trying to strengthen ties with Indonesia, the world's most populous Muslim nation. She is visiting the country as part of a swing through Asia to show that the administration of President Barack Obama is eager to reach out to new partners.
Though scattered anti-American demonstrations took place in Indonesia on Wednesday, Clinton was warmly welcomed in Jakarta — and reminded often about Obama's personal ties to the country. He spent part of his childhood here, and students from a school he once attended came out to greet Clinton at the airport.
Later, she told Indonesians that she is carrying greetings from Obama, who she says often talks about his time here.
"It gave him an insight into not only this diverse and vibrant culture, but the capacity for people of different backgrounds to live harmoniously together. And it is no accident that on my first trip as secretary of state, I come to this country," she said.
The secretary of state wants to highlight Indonesia as a success story. Indonesian Foreign Minister Hassan Wirajuda says his country could be a bridge for the U.S. and the Muslim world.
"As we have proven here, democracy, Islam and modernity can go hand in hand. And as an active promoter of dialogue among civilizations, religions and cultures, Indonesia would be a good partner of the United States in reaching out to the Muslim world," he said.
Clinton said the United States wants to build up that partnership. She said the Peace Corps hopes to return to do volunteer work in Indonesia. She also plans to upgrade relations with the Association of Southeast Asian Nations, or ASEAN, perhaps even signing the group's nonaggression pact.
She visited ASEAN's headquarters, located in Jakarta, and met with its secretary general, Surin Pitsuwan.
"Your visit shows the seriousness of the United States to end its diplomatic absenteeism in the region," he said. "Your willingness to listen will go a long way to winning friends and partners and reassuring allies in the region."
ASEAN has not been very effective in dealing with one problem in the region: human rights abuses in Myanmar, formerly Burma. Clinton said the military regime in Myanmar seems to be impervious to everyone, and she made clear the United States is reviewing its sanctions policy.
"Clearly, the path we have taken in imposing sanctions hasn't influenced the Burmese junta, but ... reaching out and trying to engage them hasn't influenced them either. So this is a problem," she said.
Clinton did venture out of the official meetings to have dinner with civil society groups to talk about her commitment to women's issues, the environment and health care. But she joked that the question everyone keeps asking her is, "When will President Obama visit?"
"Knowing he can go somewhere in the world where he is so loved as he is loved in Indonesia, he may just want to wait until he really needs that visit, and you can lavish on him all of the love that you are telling me you feel for him," she said.
Clinton lavished praise on her host country, saying she will be spreading the word that if you want to know whether Islam, modernity and women's rights can coexist, go to Indonesia.