Lessons From The World Of Opera
Lessons From The World Of Opera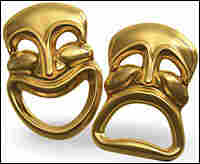 Sure, times are bad. I myself am wondering how much the stimulus package will stimulate food onto my table. But the only way to get through tough times is to laugh. Which is why I go to the opera.
You see, in opera, we understand that bad times are not only an excuse for a good cry and good sing, they're also good for a laugh. Take one of the most famous arias of all time, from Leoncavallo's Pagliacci: "Ridi, Pagliaccio, sul tuo amore..." I mean, c'mon, the guy has just found out his wife is cheating on him and what does he sing? The operatic equivalent of "Make 'em laugh, make 'em laugh..."
Or, if you think you're working too hard just to keep up, remember The Barber of Seville. When he sings "Figaro, Figaro..." it's not because he likes the sound of his own voice. Well, actually, most baritones do like the sound of their own voices. But in this case he's actually complaining about how he has to be in so many places at once. "Figaro qua, Figaro la, Figaro qua, Figaro la, Figaro su, Figaro giu, Figaro su, Figaro giu."
It's no exaggeration to say Figaro's overwork is what led to the French Revolution.
Trust me, whatever you're going through, someone in opera has it worse. Not sure how you're going to pay for daycare? Just remember Azucena the gypsy in Il Trovatore, who throws her own baby into a bonfire. By mistake.
Opera is full of bad news. Puccini's heroines come to such grisly ends you could accuse the composer of being a sadist. Many have quipped, "It ain't over till the fat lady sings," but actually it ain't over until she's coughed up a lung from tuberculosis, jumped off a parapet after killing her rapist and watching her lover shot by a firing squad, or performing hari-kari while the child she named Trouble sits blindfolded in the next room.
Yeah, and you thought you had it bad.
I have a friend who is an oncologist turned software developer. And he recently had to layoff a bunch of employees. When I said to him how difficult that must have been, he said, "Once you've told people they're about to die, telling them they're out of a job ain't so bad."
Perhaps the greatest tragedian of all was Guiseppe Verdi, who composed heartwarming pieces like Aida, where the lovers suffocate to death in a tomb but still manage to go out singing. After a long career of torture, dismemberment and disaster, the 80-year-old Verdi finally wrote a comedy, Falstaf, which ends with the words, "Tutto nel mondo e burla, l'uom e nato burlone, burlone, burlone." Which means, roughly, "The world's a joke, and we're all jokers."
Let's sing to that.