Early Switch To Digital Has Viewers Seeking Help
Early Switch To Digital Has Viewers Seeking Help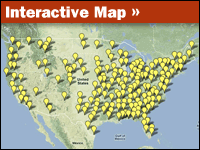 FCC Digital TV List
Read the FCC's list of places that made the switch to digital TV at midnight Wednesday here and find out when your local stations are making the switch.
DTV Resources
A third of the nation's television stations have now switched from analog to digital broadcasts. The latest and biggest switch to date involved 421 stations at midnight Tuesday, and the phones at call center help desks have been buzzing ever since.
The call volume was "definitely in the hundreds" this morning in Providence, R.I., where David Favicchio was staffing a call center set up by the state's TV stations.
"It was 20 of us here today and every time you hang up, it rings again," Favicchio said, phones ringing in the background.
A Flood Of Calls
The Federal Communications Commission reports 6,750 calls to its call center between midnight Tuesday and 11 a.m. Wednesday. Many more calls are expected Wednesday night as some people sit down for prime-time TV viewing and find they can't tune in to the stations they are accustomed to viewing.
In Providence, three of four network affiliates flipped the digital switch. Thousands of people dependent on rabbit ears or rooftop antennas for TV signals lost those stations unless they were prepared. Many were not, judging by the calls Favicchio received at the call center.
"There are three kinds of people," Favicchio said. "People who either don't have the [digital converter] box, or don't read the directions with the box; people who have the boxes set up, but their antennas aren't VHF and UHF compatible, therefore they can't get all the channels; and people who have everything set up but specific channels aren't coming in."
That latter group may be tuning in the old analog channels, while the digital channels are different. Frustrated viewers in Providence are not alone. The FCC says many of its calls involve people who did not properly configure their converter boxes or digital-capable television sets. Call center agents have been trained to help viewers resolve those and other problems.
Prepared In Wyoming
In Casper, Wyo., Tuesday, there were only four calls for help picked up by Mark Nalbone of Mark III Media, which operates four stations broadcasting in four Wyoming cities. Nalbone credits a year of televised announcements for the light call volume in Casper.
"The week leading up to Feb. 17, our stations were running between 125 and 175 announcements every day," Nalbone says. "And the biggest complaint, honestly, that we get from people is they're tired of listening to the announcements."
The Casper television market also has relatively few people dependent on over-the-air analog signals. Ninety-two percent of television viewing there is on cable and satellite systems, which are digital by definition. Nalbone also notes that only about 1 percent of the viewers in Casper are on the government's waiting list for discount coupons for digital converters. That's an indication, he says, that Casper was ready.
The FCC made sure that at least one major network affiliate in every TV market continued to broadcast analog signals, so that local news, weather and emergency information would continue for those not ready to switch or those confused by February and June digital deadlines. February was the original deadline. Congress changed that to June — and then said some stations could still switch in February. The resulting confusion had critics calling the whole digital transition a mess.
Working With The Poor
Wade Henderson of the Leadership Conference on Civil Rights says the switch "has created a sort of rolling transition in which communities began losing selected stations but not every station.
"And that, of course, has given them a very real-world signal letting them know that 'Look, you're going to have to take steps to make this transition work for you.' "
Henderson's group has been working on a smooth digital transition for poor people and minorities. It labels this week's switch "a soft transition."
Bigger problems are expected in June when the rest of the nation's TV stations turn off their analog signals for good. That's also when viewers in the biggest TV markets will be affected, including markets more dependent on over-the-air, analog signals.
"Certainly we avoided widespread consumer confusion by delaying the transition from February until June," says Joel Kelsey, who tracks the digital transition for Consumers Union. "And, [we] avoided a lot of problem areas like, for example, Dallas or Houston, where more than 20 percent of the homes rely exclusively on over-the-air broadcasts."
Kelsey also warns that it's too early to say how this week's transition worked out.
"Many of the broadcasters who made the transition today didn't do it until midnight," he says. "So a lot of viewers won't be tuning in until a little bit later tonight.
"We're assuming we'll see a bit more problems bubbling up around prime time."
The FCC and broadcast industry say they are ready. They handled more than 28,000 calls Tuesday, before this week's switch and Wednesday's prime-time test.