Father, Daughter Face Life After Layoffs
Father, Daughter Face Life After Layoffs
About This Series
As the U.S. struggles with a deepening recession on track to become the worst in more than two generations, the impact is being felt across all states, industries and income levels. Meet some of the faces behind America's unemployment numbers. NPR will be checking back with them periodically as they hunt for that increasingly hard-to-find commodity: a job.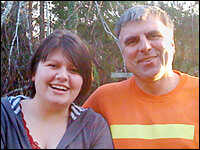 When someone loses a job, the first step often is to sit down with family and have that conversation: What now? But these days, some families are having that conversation more than once. The Petersons of Washington state are one of those families. NPR will be checking in with them periodically in the weeks to come.
One month before Gary Peterson started at the Weyerhaeuser sawmill, Happy Days premiered on ABC. It was 1974. Richard Nixon was president.
Back then, Gary says, his boss drank on the job, and Gary was called a handyman — not a handyperson, he says.
"My girlfriend's father worked here. He got me a job here." Gary says. "I'm very glad he did. I was 18 years old. I married his daughter the next year and that was it."
Two Mill Workers, One House
For the next 35 years, Gary got up at 3:30 in the morning, went down the one hill in Aberdeen, Wash., and into the mill. At 3 p.m., he went back up the hill to get home. He did that every day. In the meantime, he had three kids, got divorced, remarried, divorced again, bought a house, sent a son to college and became a grandfather.
And last year, he added another Peterson to the mill — his daughter Rachel. "Kind of like my father-in-law," Gary says. "I got her the job."
Rachel is 25. She's burrowed deep in a living room sectional while Gary makes googly faces at her two kids in the kitchen. They all live together — along with Rachel's husband, who stays home to care for the children.
Rachel was making $10 an hour as a home health aide and wanted to go to nursing school. But she was pregnant and the mill paid $15. And it was like family.
"Everyone would introduce me, 'Oh, this is Gary's kid,'" she says. "I didn't have a name for the first month and a half I worked there."
Two mill workers made for two solid incomes for their one house. It worked out pretty well — for about 10 months.
Then, one Monday afternoon, Gary and the other workers got called into a meeting. Rachel was off that day.
Gary expected the news to be about layoffs. "Next thing I know, the mill manager tells us they're shutting the mill down. So it was a big shock to everybody. And we were not to go to our lockers; we were to go straight to the parking lot."
At home, Rachel got the call from Gary. "Hey, we don't have jobs anymore," he told her.
All 221 mill workers were laid off that day.
Worried For Each Other
"I wasn't really worried," Rachel says. "I was more worried for my dad. He's had the same job for 35 years. He had a safe, comfortable feeling at work, and I hate to see him have to go out and learn something completely different."
"Who really wants to hire a 53-year-old anyways?" she says.
Rachel says he's stressed out, but Gary doesn't like to talk about it. "Sure, I wanted to retire there, but I can't, so it's not worth crying about," he says.
He prefers to change the subject to his daughter. "This was no career for Rachel," he says. "She wanted to get into the nursing program and she may go back to that." The one good thing that Gary hopes will come from the layoff is some worker retraining money Rachel could put toward her degree.
But Rachel is not interested in going back to school. "If my dad's not working, we're going to need my income," she says. "I'll probably have to go out and get a job."
What's Next?
Gary still goes in to the mill most days — to help shut down the place. On Wednesday, he found a list of employees from 1976. He and his co-workers remember most of the names.
"We grew up together. We got married, we had children," he says. "There were three places you wanted to work: You wanted to work for the county, the city and Weyerhaeuser. They were the best jobs on the harbor, and when you had one of them, you had a great job."
Gary and his friends will spend the next few weeks closing up the mill. He says they aren't exactly rushing. Rachel says it doesn't seem real yet.
"I think this won't really sink in until this is over," she says.
At that point, father and daughter will start down the path of figuring out what's next — for each other and for themselves.