'Two Lovers': Love And Trouble, All In One
'Two Lovers': Love And Trouble, All In One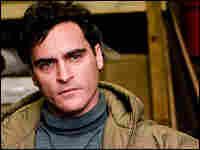 Watch Clips
'Our Parents Wanted Us To Meet'
'Pictures From The Bar Mitzvah'
Joaquin Phoenix prompted a lot of nasty speculation last week for his aggressively taciturn performance on The Late Show with David Letterman, in which he wore a heavy beard and took his sweet time with his non-answers. Was he on drugs? Is he really giving up acting to be a rapper?
I thought it was obviously a stunt connected to a mockumentary he's allegedly making with his pal Casey Affleck, and I have no problem with that: It made for better TV than another routine promo appearance.
But couldn't Phoenix have done some promotion, or at least made it seem as if he gave a hoot about a new movie — James Gray's Two Lovers — that he obviously put his heart into? Phoenix has acted for Gray three times (the other films are The Yards and We Own the Night), and each performance has been, along with Walk the Line, a high-water mark in his career. Two Lovers deserved better.
Phoenix's own performance deserved better: He's stupendous. He plays Leonard, a thirtysomething depressive who, after a broken engagement, has moved back in with his Jewish family in Brooklyn's Brighton Beach district, where he works as a delivery boy for his dad's dry-cleaning store.
In the opening, he attempts suicide: He drops some dry-cleaning he's carrying and jumps off a footbridge. We see him underwater, on the verge of drowning, and then he heads back to the surface and lurches home sopping wet.
But there's an underwater quality to the whole performance. Phoenix has pudged himself up, and his words come out half-slurred, befogged, with no push. At dinner, he meets Sandra (Vinessa Shaw), the daughter of his father's prospective business partner, and sitting with her in his bedroom he recognizes in their meeting a certain inevitability.
Leonard seems likely to yield to the inevitable — but then, in his apartment building, a woman backs into his line of sight and, hoo-boy, it's a shiksa goddess. It's Gwyneth Paltrow! And Leonard's attraction to the woman she plays, Michelle, is seismic.
It's not her dad, it's her married lover she's dodging, and for much of the film, Leonard trails after the flighty Michelle and listens to her romantic woes while remaining half-heartedly involved with Sandra, the nice Jewish girl he's clearly supposed to marry.
In outline, Two Lovers resembles the original The Heartbreak Kid, but the social satire is absent, and so is the social climbing. Leonard wants Michelle because she represents freedom from his prescribed destiny.
Director James Gray has a bit of the self-indulgent about him, but the worlds he creates have weight and texture. You understand why his heroes have such a hard time not going with the flow.
Instead of shallow, overbearing parents, he gives us thoughtful and sensitive ones whose only fault is being too fearful for their son's happiness. Isabella Rossellini plays Leonard's mother, and because of who she is you can't see her as one of those smothering, anti-life-force Jewish moms out of Philip Roth, Woody Allen, and Neil Simon. She's beautiful and cultured, and her love is selfless.
And Shaw's Sandra is domestic bliss on a platter. But Leonard, in spite of everything, wants the crazy blonde.
Paltrow makes Michelle at once radiant and toxic, ditzy with a dangerous sense of entitlement. What makes her alluring is that we see her through Phoenix's yearning eyes as Leonard trails her and clutches at her hand. She's like an E.T. in a Spielberg movie — he thinks she can transport him out of his miserable underwater life to another realm.
It's daft, but Phoenix makes those longings momentous. That's what's depressing about last week's TV appearance. On screen, Phoenix can make lack of direction fiercely poetic. On Letterman, it was only schtick.