Nationalization Rumors Batter Bank Stocks
Nationalization Rumors Batter Bank Stocks
Rumors that some of the nation's biggest banks might have to be nationalized pushed the Dow Jones industrial average down. The market bounced back a bit after White House spokesman Robert Gibbs said the administration strongly believed in a privately held bank system.
MICHELE NORRIS, host:
From NPR News, this is ALL THINGS CONSIDERED. I'm Michele Norris.
Could have been worse. That's about all we got today from the stock market. A crummy ending to an awful week. The Dow Industrials ended up losing about 100 points, roughly 1.3 percent today. At one point the index was down more than 200 points. And at that point the Dow was at its lowest point in 11 years.
NPR's Yuki Noguchi joins me now.
Yuki, that was a big sell-off today before the market then bounced back. What is going on?
YUKI NOGUCHI: What happened were some rumors started by some very influential people in Washington, who started talking very seriously about nationalizing banks, at least temporarily. And Senate Banking Chairman Committee - chairman of the committee Christopher Dodd told Bloomberg today that it might be - might be necessary. And then markets just tumbled. Speculation about nationalization was so intense that White House spokesman Robert Gibbs had to respond.
Mr. ROBERT GIBBS (White House Press Secretary): This administration continues to strongly believe that a privately held banking system is the correct way to go.
NOGUCHI: So you had a senator talking about nationalization and then the White House saying no, and the White House statement as well as assurances from Treasury that there would be more details on this bank rescue plan, you know, sort of assured the market by the end of the day. Tim Ghriskey of Solaris Asset Management said Washington's lack of clarity has really hurt the market.
Mr. TIM GHRISKEY (Solaris Asset Management): That's the issue, that there just aren't clear answers to really almost any of these problems.
NORRIS: Well, there was a lot of volatility in the market today. And some of the prices for these bank stocks, banks that were, you know, still standing just a few months ago, are pretty eye-popping.
NOGUCHI: Yeah. Well, investors have been trying to peg what they're actually worse, and that's really tough. I mean Bank of America is trading at $4 a share, and Citigroup, one of the largest banks, you can have their shares for $2 apiece.
NORRIS: Also, this week we saw some very troubling economic numbers.
NOGUCHI: Yeah, indeed. The economic numbers were a bummer. In particular job numbers showed that the number of people collecting unemployment shot up to record levels. Nearly five million people in the U.S. are getting unemployment benefits. And of course no one's building houses. Housing starts were down 70 percent, which is also a record.
You know, some of that's not bad. The fact that housing starts are low in the short run means, you know, construction jobs will suffer. But there is something like a year's worth of excess housing supply on the market right now. So you really don't need new homes. Today's inflation numbers are also a little mixed, you could say.
Prices for household goods basically didn't go up at all last year. In a way that's great for consumers. But it also points to the fact that global demand is so low that prices are staying put.
NORRIS: Now, the market is pushing big company stocks, not just the banks, to some historic levels.
NOGUCHI: Yup, that's true. And here is what Ghriskey of Solaris Asset Management had to say about that.
Mr. GHRISKEY: Really, the whole market was taken down. And you know, that just means broad-based selling and panic, fear, by investors wanting to get out really almost at any price.
NOGUCHI: You know, you saw General Motors stock hit its lowest level in more than 70 years. One of their brands, Saab, filed for bankruptcy today in Sweden. And in general the future of GM is way up in the air. General Electric, which owns NBC as well as some financial businesses, closed down below $10 a share.
NORRIS: Now, there's - clearly there's a sell-off going on on Wall Street. But for those investors who are buying, what are they buying?
NOGUCHI: Well, they're going safe. They're buying things like U.S. treasuries, which, you know, are so popular these days; the yield is down. And they're buying gold. Gold is trading at just above a thousand dollars an ounce.
NORRIS: And we haven't seen it that high in quite a long time.
NOGUCHI: That's right.
NORRIS: That's NPR's Yuki Noguchi. Thanks very much.
NOGUCHI: Thank you.
NPR transcripts are created on a rush deadline by Verb8tm, Inc., an NPR contractor, and produced using a proprietary transcription process developed with NPR. This text may not be in its final form and may be updated or revised in the future. Accuracy and availability may vary. The authoritative record of NPR's programming is the audio record.
Markets Continue Slide Despite Stimulus Efforts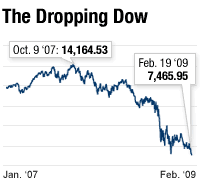 World markets ended the week on a down note and Wall Street sank to six-year lows Friday, despite President Obama's multipronged plan to lift the U.S. out of recession.
At the end of the day, New York's Dow Jones industrial average had shed 100 points, dropping to about 7,365. The Standard & Poor's 500 index lost nearly 9 points, ending at 770, and the Nasdaq composite index dipped nearly 2 points to 1,441.
Markets in Asia and Europe also slid. Japan's Nikkei stock average fell 1.87 percent and Hong Kong's Hang Seng fell 2.49 percent Friday. Britain's FTSE 100 declined 3.18 percent, Germany's DAX index tumbled 4.76 percent and France's CAC-40 fell 4.25 percent.
The White House had hoped to bolster the financial markets with a series of rescue plans. Last week, Treasury Secretary Timothy Geithner unveiled the administration's plan for helping troubled banks, which could result in up to $2 trillion being pumped into the financial industry. But the plan has had little impact, and investors are becoming increasingly concerned that the Obama administration might take over the banks.
"Investors are very, very worried that the federal government is going to nationalize banks," said Hugh Johnson, chairman and chief economist at Johnson-Illington Advisers in Albany, N.Y. "If that happens, it means that the federal government takes ownership" and stockholders will be left empty-handed.
On Friday, shares of Bank of America were down 3.6 percent, closing at $3.79, while Citigroup plummeted more than 22 percent to $1.95.
Johnson said nationalization concerns were renewed when Connecticut Sen. Christopher Dodd, chairman of the Senate Banking Committee, raised the possibility in an interview with Bloomberg News.
Dodd said some banks could be nationalized for a short time, according to a Bloomberg report.
But White House spokesman Robert Gibbs brushed aside the suggestion at a briefing Friday afternoon.
"This administration continues to strongly believe that a privately held banking system is the correct way to go, ensuring that [banks] are regulated sufficiently by this government," Gibbs said.
Share prices have continued to fall despite the Obama administration's rescue plans for the banking and housing sectors and the economy in general. Lowe's and J.C. Penney reported disappointing earnings in the fourth quarter, an indication that businesses are continuing to suffer in the 14-month recession.
Johnson said investors want evidence that the rescue plans are working.
"The overall problem is that investors are, as yet, not convinced that all the money we're throwing at the problem is going to work," he said. "They are going to wait to see the evidence."
Johnson said a turning point could come March 4, when Obama's $275 billion housing program is implemented. The plan aims to allow up to 4 million homeowners who are nearing foreclosure to modify their mortgages. In addition, up to 5 million homeowners whose home values are less than their mortgages may be able to refinance through Fannie Mae and Freddie Mac.
"Every day we get evidence that if there's progress made, you'll start to see the mood of the market change and the performance of the market," he said.
The White House said recovery is going to take time. "I think we all recognize, and I think forecasters recognize, that the downturn in the economy is very serious, very analogous to some of the past deep recessions that we've seen, and that it's going to take some time to get out of that hole," Gibbs said.
At a meeting with mayors from across the country, Obama offered reassurances about the economy. He said the $787 billion stimulus package will provide new funding for state transportation projects and improvements to health care. The plan will also help states avoid laying off thousands of teachers, the president said.
"Rebuilding our economies and renewing our cities is going to require a true partnership between mayors and the White House, and that partnership has to begin right now," he said.
Meanwhile, Treasury Department and White House officials held the first meeting of a task force to oversee the restructuring of General Motors and Chrysler. The automakers received a $17.4 billion government bailout in December, but they've said they need more money to stay afloat.
Task force members must decide that the companies' turnaround plans will make them competitive; otherwise, the automakers will not be eligible for more government money.