Stanford Donations Now Sticky For Lawmakers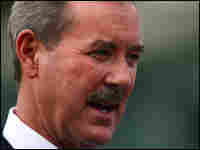 FBI agents tracked down Texas billionaire R. Allen Stanford, accused of bilking investors of $8 billion, in Fredericksburg, Va., this week — only a few miles from a city where he invested heavily in political clout. Now Washington officeholders, from President Obama on down, are pondering how to handle those contributions.
The Stanford imbroglio is one of several high-profile cases bringing renewed scrutiny to the intersection of money and politics.
Obama's campaign got $31,750 from Stanford and others at the Stanford Financial Group. On Friday, the White House announced that $4,600, the amount from Stanford himself, would be donated to the Chicago Coalition for the Homeless.
Two Texas Republicans also are shedding Stanford dollars. Rep. Pete Sessions and Sen. John Cornyn are giving charities amounts equal to what they got from Stanford himself.
Sessions received a total of $41,375 from donors at Stanford Financial, while Cornyn got $19,700. The company also paid for a trip to Antigua that Cornyn and his wife took in 2004. He was one of several lawmakers to travel to the Caribbean on Stanford's dime.
Cornyn's office says it was a fact-finding trip to examine the business operations of a constituent whose empire included two big offices in Houston. Critics say it looks a lot like a vacation with a high-flying financier who was knighted by Antigua and who plowed millions of dollars into cricket teams and tennis matches.
Sheila Krumholz, director of the Center for Responsive Politics, which tallied up Stanford's campaign contributions, says Stanford was pushing all the right buttons in Washington.
"He was a significant donor, giving $2.4 million, between him and his employees and his PAC, since 2000," Krumholz said. "Most of that money, 65 percent, went to Democrats."
So far, only one lawmaker is getting rid of all the money he got from Stanford.
Sen. Bill Nelson (D-FL) received $45,900 over the years — more than anyone else in Washington. His office says he plans to give the money either to charity or to Stanford Financial's court-appointed receiver.
The Securities and Exchange Commission filed civil fraud charges against Stanford on Tuesday. Krumholz points out that with Stanford, as with alleged Ponzi artist Bernard Madoff in New York, the SEC stands accused of failing to follow leads over several years. During that period, Stanford and his associates were lobbying Congress and writing checks to lawmakers in both parties.
"And so the question is, did this money contribute to lax enforcement? Did anyone intervene for contributions that were received?" Krumholz says.
An SEC spokesman said Friday that the congressional correspondence files since 2005 contained no letters from Capitol Hill pertaining to Stanford Financial. The search, he noted, didn't rule out other possible contacts.
Meanwhile, House Democrats are busy climbing from the wreckage of The PMA Group, a Washington lobbying firm that flooded them with contributions while enlisting them to legislate earmarks that cost taxpayers millions of dollars. The FBI raided the firm in November.
And on Friday, prosecutors charged another defendant in the long-running case involving Republican lobbyist Jack Abramoff. Ann Copland, who worked for Sen. Thad Cochran of Mississippi, was charged with taking gifts for two years while allegedly trying to influence decisions affecting a Mississippi Indian tribe represented by Abramoff. She was the 20th person to be charged in the Abramoff scandal.
The spur of high-profile cases involving money and politics will only intensify public scrutiny of Washington ethics, says political scientist Norman Ornstein of the American Enterprise Institute.
"When times are tough, we're going to take a more careful look at people who have either helped to make times tough or are making decisions that are affecting our lives," Ornstein says. "We want ethics; we want transparency; we want some sense that people are not living by some different set of standards than the rest of us."