Eleni Mandell: A Poet's Eye For Detail
It Wasn't the Time (It Was the Color)
Thursday's Pick
Song: "It Wasn't the Time (It Was the Color)"
Artist: Eleni Mandell
CD: Artificial Fire
Genre: Pop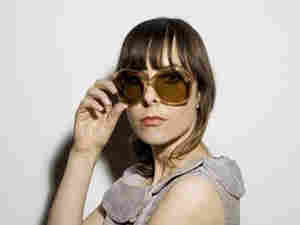 It's hard to settle on Eleni Mandell's strongest suit. Perhaps it's her musical palette, which revolves constantly around a fixed point so that each successive album reveals a new angle while the kernel of her personality remains constant. Perhaps it's her voice, which seems simultaneously cool and warm to the touch. Or maybe it's her lyrics, which benefit from a poet's eye for detail without falling victim to the trap of being more enamored of the description than the thing she's describing.
Whichever it is, all are in full effect on "It Wasn't the Time (It Was the Color)." The accompaniment is so simple that the instruments seem to take tiny steps almost the entire way, but they get where they're going nonetheless. The bass shadows the rhythm of Mandell's voice, which is uncluttered in its straightforwardness.
That approach suits the lyric, which in Mandell's hands entails both the recollection of a treasured moment and a way of ruminating on the specificity with which memory works. Eventually, a distorted electric guitar comes in and cymbals begin to crash. And then, as the song opens up, Mandell stops singing, lost in her reverie.
Listen to yesterday's Song of the Day, and subscribe to the Song of the Day newsletter.