Brooklyn Hasidic Community Grapples With Scandal
Brooklyn Hasidic Community Grapples With Scandal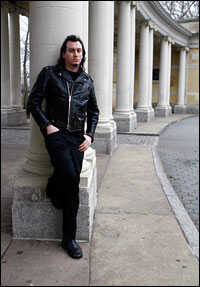 Read The Coverage
Last month, NPR told the stories of two men who allege they were sexually abused as boys.
A month after allegations of child sexual abuse surfaced in the mainstream press, the Hasidic community in Brooklyn, N.Y., is taking cautious steps to confront the scandal. Meanwhile, outsiders are tackling the issue head on.
On Sunday, state Assemblyman Dov Hikind plans to host a community-wide "morning of chizuk" (support) for the alleged victims of abuse. Hikind, an Orthodox Jew who is largely responsible for bringing public attention to the scandal, has recruited rabbis and community leaders to speak at the event, which takes place in Boro Park, the center of the Hasidic district he represents. Some community members believe the gesture is merely symbolic, but Hikind calls the event "unprecedented."
"No one has touched this subject before," he says. "We're telling the victims we're sorry we didn't see your pain before, and we're turning the corner."
Another development is potentially much more powerful. The New York State Assembly recently introduced a bill to increase the age by which a person must bring a criminal or civil complaint to 28 from 23. In addition, the House is proposing that for one year, anyone can bring a complaint, no matter how long ago the alleged abuse occurred. The House has passed this legislation several years in a row, but it always died in the state Senate. This year, however, several new state senators have pledged to support the bill, and victims groups are optimistic that the law will be changed.
Inside the community, the talk has taken more muted tones. Pearl Engelman, mother of one of the alleged victims, Joel Engelman, says "everyone" in her community heard the NPR story because it was posted on the community's most popular blog. The story drew a huge nu0mber of online responses, she said, "more than anything else I can remember."
"Many people said they knew people personally who had been abuse," she said, "and some said they were themselves victims."
This story has received attention by the local Jewish press, notably The Jewish Week. But even with the publicity generated by NPR's coverage, Engelman says, there's been a "deafening silence." Her neighbors have avoided the subject with her, she says, largely because people in this Hasidic community do not confront Jewish leaders, because they depend on them to educate and later arrange marriages for their children.
"It's unusual to come forward," she says. "It's unusual to be outspoken about issues, especially a subject that's been swept under the rug like this. And [it] hasn't only been swept under the rug, but there are many people standing on the rug."
Engelman notes that this silence is a recipe for enabling the abuse to continue, but she believes her son's case may have created a small fissure in the dam.
Since the NPR story aired, a new victims' group, Survivors for Justice, met and welcomed several new people. According to people at the meeting, one young man said he had witnessed a child being molested in a mikvah, a bathhouse, a few years ago. A detective from the Brooklyn sex crimes unit was in attendance, and, one source says, she is investigating that case and several others that have come through the group's tip line.
A couple of other people have come forward anonymously to say they had problems with Rabbi Avrohom Reichman, the school teacher accused of abusing Joel Engelman. Reichman is still teaching, and school officials refuse to discuss the case because of an ongoing lawsuit.
Asked what it will take to change the school system, Pearl Engelman responds, "Exactly what we're doing now — bringing awareness and attention to the situation, and making schools uncomfortable with covering up with these criminals. Uncomfortable because they now have a fear there will be others like Joel."