Donor Sibling Registry Connects Families
Donor Sibling Registry Connects Families
Sperm donors traditionally remain anonymous, but are assigned a number. Through the Donor Sibling Registry, parents of children conceived by a single donor can get in touch with each other.
Tell us: Have you reached out to your child's half-siblings, or your own?
Guests:
Susan Hollander, counselor for donor families. Her donor-conceived son met his half-sister on the Donor Sibling Registry.
Wendy Kramer, founder of Donor Sibling Registry
Liza Mundy, Washington Post staff writer
Donor-Conceived Kids Connect With Half Siblings
Donor-Conceived Kids Connect With Half Siblings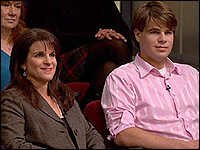 Parents who've conceived children using a donor's sperm or egg are increasingly tracking down their own children's "donor siblings," according to a study in the journal Human Reproduction. These parents and children want to learn more about their genetically linked "half brothers and half sisters," and are curious about possible similarities in appearance and personality.
"It's a new form of family," says sociologist Tabitha Freeman, of the Centre for Family Research at the University of Cambridge in England.
"It's not, perhaps, what people traditionally understand by family — sort of mum, dad, child. And yes, they do describe each other as brothers and sisters."
Freeman says it's often assumed that people who seek out donor information want to learn about their own medical history. But in her study, the main reason people cited was curiosity.
Twenty-seven percent of parents said they wanted to know about similarities in appearance and personality. Eighteen percent of parents said they wanted to give a child a sense of self identity, and another 18 percent said they wanted to give a child a more "secure sense of identity."
Finding Donor Siblings
Most families that use assisted reproduction don't seek out donor siblings. Freeman studied a self-selected group: members of the U.S.-based Donor Sibling Registry.
The registry was started in 2000 by a Colorado mother, Wendy Kramer, who wanted to find siblings for her only child, Ryan. Today, there are more than 20,000 people on the registry and more than 6,000 people have been connected.
Kramer has learned of six half-sisters related to Ryan, who's now 19. He's met one, a girl named Anna. The two families traveled to see each other twice over the last two years and this summer plan to meet two new half sisters that they learned about last year.
Ryan keeps in touch with the girls through e-mails, instant messaging and on Facebook. Freeman says that's typical. And she says the parents of one child often report feeling a connection to the donor siblings of their own children. Kramer says she felt this way when she first met Anna.
"It's kind of weird. I mean, I know Anna is nothing to me," says Kramer. "I'm not related to her but when I saw this little girl who had parts of my son in her, there was an immediate connection to her. And with her mom. I mean, we hugged each other and we cried."
What Does It Mean To Be Related?
In Freeman's study, the average number of related donor siblings who've found each other was five. But some of those on the registry have 20, 50 or even, in one case, 120 donor siblings.
"When you get to a certain number, it's just a very different understanding of what a sibling is," says Freeman. "So we do need research on these bonds between these larger numbers."
Freeman surveyed 791 parents on the registry who were seeking out a donor or donor sibling. Most were usually single mothers (45 percent); lesbian parents (41 percent) and to a lesser extent, heterosexual couples (14 percent).
Almost all reported positive results when they connected with a donor sibling.
Related NPR Stories