Americans Mull The Choice: 401(k) Or The Mattress?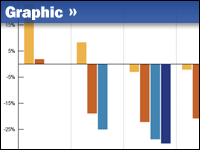 Until recently, Varada Gopalakrishnan and his wife, Preethi, had generous retirement benefits from their Chicago-area high-tech employers -– both a pension plan and a matching program for 401(k) contributions.
But now they have neither. In December, Preethi's employer, Motorola, announced a cost-cutting plan that froze employee pay, ended all contributions to its pension fund and suspended 401(k) matching. Thirty-nine-year-old Varada, also a long-time Motorola employee who had recently switched to another tech firm, Freescale Semiconductor, found his new company also eliminating its matching program.
"We were expecting a pay freeze, and that's natural in a down economy, but we were not expecting the end of the pension and the 401(k) matching," Varada said.
General Motors, Sears, Sprint Nextel, FedEx and Eastman Kodak are also on a list of companies that recently have slashed 401(k) matches or pension benefits. And that development has left the Gopalakrishnans — and millions of others — worried about their retirement options.
Most companies that have gone the way of Motorola and Freescale characterize the move as temporary. But the trend, coupled with as much as $2 trillion in equity lost from retirement portfolios as the Dow retreats, has economists wondering if some Americans could permanently opt for the mattress instead of the market.
Like many others, the couple believed they were doing the right thing by putting away 10 percent of their pay each month into a 401(k) retirement account that was matched up to 5 percent by their employer. They were even socking away extra funds into their 401(k)s to make up lost ground for "being 10 years behind" on their portfolio when they arrived in the U.S. in 1999, Varada says.
Then came the market crash of the fall, which has continued into 2009. Although the Gopalakrishnans are still contributing to their 401(k)s, experts worry that others might not.
"After the crash of the 1930s, people stayed away from the stock market for 40 years," says Teresa Ghilarducci, an economist and expert in retirement programs at the New School for Social Research in New York.
Even when individual investors began to return in large numbers, she says, "it was only after the government gave tax breaks for 401(k) accounts that [small investors] were drawn back in."
A Permanent Downturn?
Ghilarducci — who is author of the book When I'm Sixty-Four: The Plot Against Pensions and the Plan to Save Them — says Wall Street, which has grown handsomely on a steady stream of retirement plan revenue in the past two decades, may again be facing the same dilemma.
"I suspect there will be a permanent downturn in contributions," she says.
By contrast, David Wray, who is the director of the Profit Sharing/401(k) Council of America, would consider himself an optimist on the issue. But even he acknowledges that "fear rules right now."
"Every company has put together an emergency plan in case they get into trouble, and suspending the 401(k) match is on the list," Wray says.
Wray estimates that $180 billion was put into 401(k)s in 2008, half of it through employer matching. He believes that most employers who suspend matching programs will restore them as soon as the economy improves.
There's precedent for that. In the wake of the dot-com bust and Sept. 11, some companies did temporarily stop matching and then later restart it. Ironically, among them was Charles Schwab, one of the nation's largest brokerages. In 2003, Schwab was strapped and looking for a place to cut.
"We did it very reluctantly," says Dean Kohmann, Schwab's vice president of 401(k) plan services.
"We made it clear we would reinstate it as soon as possible," Kohmann says, adding that the company did just that and has "no plans" to suspend contributions during the current downturn.
So far, only about 2 to 3 percent of Schwab's corporate clients have decided to suspend matching programs, Kohmann says. As a worst-case scenario, he expects that figure to rise no further than 10 percent.
The Case Against The Mattress
Two factors argue against cuts in employer matches having a huge long-term impact on the market, says Olivia Mitchell, a professor at Wharton School of the University of Pennsylvania.
"First, the financial meltdown has cut pension values, and people know they need to redouble their efforts," she says. "Second, my research has shown that the majority of workers are not very sensitive to employer matches."
Wray, Kohmann and Mitchell all think baby boomers will surge back into the market to try to recoup their losses ahead of looming retirement. There is general concern, however, about a generation of younger workers who have witnessed Wall Street's carnage and may now think the stock market is a losing gamble.
Even before the market downturn, getting 20-somethings into 401(k) plans was a challenge, Kohmann says. In the short term, the current climate will "make it much more difficult" to attract younger investors.
"When you see some of the greed that creates distrust, especially among younger investors, we need to get that trust back," Kohmann says, adding that later "we'll look back on this as a learning experience."
Ghilarducci sees trust and the expectation of a stable return on retirement investments as irreparably damaged. She is among a handful of economists who are vigorously promoting a third way.
The current downturn, which has clobbered the portfolios of many Americans in or near retirement, proves the fallacy of the current, entirely privately administered retirement programs, Ghilarducci says.
First, pensions disappeared. Then, she says, 401(k)s were sold as the equivalent of a pension plan.
"If companies are going to back away from matching, they are saying this isn't a real retirement system. It's not a pension," she says.
A 'Hybrid' Alternative
So, now what?
As a supplement to 401(k)s and Social Security, Ghilarducci envisions an optional "hybrid" investment program featuring guaranteed retirement accounts, or GRAs. Participants would agree to a 5 percent payroll deduction. That money would be invested in private equity markets, and the government would guarantee a 3 percent return over inflation after retirement. She proposes a $600 tax credit indexed to inflation as an incentive.
"The government can invest for the long term, which is something individuals have a difficult time doing," she says.
Alicia Munnell, the director of the Center for Retirement Research at Boston College, also supports the concept of providing guaranteed returns, though she does not endorse Ghilarducci's specific plan.
At any moment, less than half of the private sector work force participates in an employer-sponsored retirement plan, Munnell said. And, according to a survey conducted in 2004 by the Federal Reserve, the typical head of household approaching retirement age (55-64) had a 401(k) or individual retirement account (IRA) balance of only $60,000.
So, even in the best of times, 401(k)s fall far short, she says.
As for the current situation, "Sharp drops in retirement balances upset people's plans even if the drops merely offset a lifetime of high returns," Munnell writes as co-author of a new paper.
But Kohmann isn't sold on the idea of GRAs. Ghilarducci and others don't "give enough credit to the current system," he says.
"Employees consistently say they want to make their own retirement decisions," Kohmann says.
For now, the Gopalakrishnans, who estimate they've lost 50 percent of their portfolio in the market downturn, are "not yet ready to run away from the market," Varada says.
"I keep telling my wife that when the market is down, we've still got dollar-cost averaging, and when things turn around, we could make our money back."