Arabesque: Sampling The Art Of The Arab World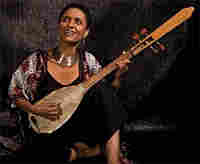 This month, the Kennedy Center hosts hundreds of musicians, dancers, artists, writers and thinkers from the Arab world in a three-week arts festival called Arabesque. Representatives say there has never been such a gathering: It spans 22 countries, including Iraq, Oman, Mauritania, Egypt and Syria. Some of the artists performing in the festival, which also includes panel discussions and films, are making their American debut.
Videos of the musicians performing during the festival are available on the Kennedy Center's Web site.