'Time Stands Still': A War Portrait, Unretouched
'Time Stands Still': A War Portrait, Unretouched
Scenes From The Play
'Turbulence Like You Wouldn't Believe'
Media no longer available
'You Called Her The Attack Girlfriend'
Media no longer available
'The Real Drama'
Media no longer available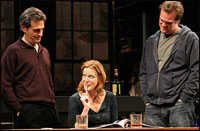 A Shooter In the Line of Fire
Donald Margulies' play Dinner With Friends, which took the Pulitzer Prize in 2000, charted the collateral damage of a disintegrating marriage. There's collateral damage of a more immediate sort in his newest play, Time Stands Still, which is getting its world premiere at Los Angeles' Geffen Playhouse. It's the story of a photojournalist who's nearly killed while covering the Iraq war — and of the trouble she has readjusting to life at home.
Fittingly enough, Margulies reports that the play began life with an image.
A Place First, Then A Person
"I imagined a setting," the playwright says. "I imagined a room, a loft, and then I began to wonder who lives here. I decided that a photographer lives in this loft, and then what kind of a photographer? A photojournalist, and it would be a woman — a woman who has been injured while covering a conflict."
Sarah (Anna Gunn) is a successful magazine photographer who's recovering in New York after being wounded by a roadside bomb in Iraq. In one scene, she tells the younger Mandy, played by Alicia Silverstone, that she takes pictures of war because she believes it is her duty.
Margulies did want to examine the real and metaphorical costs of bringing images of war home to an uninformed audience. But he wasn't specifically writing an "Iraq play," he says.
"It suggests that there is an agenda, and there is not an agenda," Margulies says. "It's a play that touches on themes that I think really seem to resonate for people who are grappling with what it's like to live in the 21st century, and to be a thinking, feeling person in a tumultuous world where mass media is so pervasive."
Bearing Witness, And Wounds, In A Small World
But the media does have a role, says the play's director, Daniel Sullivan: It should bear witness.
"A war photographer is there for us ... taking a picture in as dispassionate a way as she can, to show us what life is like beyond our small world," Sullivan says.
"And yet, the play is about our small world, and how the comfort of our small world keeps us very far away from these conflagrations."
In order to bring those battles home, journalists often risk their lives. And that makes great drama, says Margulies.
"[It's] the very notion of risk and putting one's life on the line, the altruism that's associated with it and the mania that's associated with it — the thrill-seeking element," he says. "So it's not only about getting the truth out; there's sort of an endorphin component."
A View From The Real World
That's not how photographer Samantha Appleton regards her profession. She's covered conflicts in Iraq, Afghanistan and Lebanon for Time magazine and The New Yorker. She says that, for her, photographing war is less of an adrenaline rush than an addiction to history.
"I love being able to be at the inauguration or meeting Hugo Chavez, or Hamid Karzai," Appleton says. "I think I'm more addicted to history and the intensity of that, knowing that you're in this moment that's a great punctuation in the history of the world."
But recording history can come at a cost to the people whose lives are unfolding in front of the lens. As Margulies imagines it, Sarah tells her boyfriend that photographing the carnage at a bombed marketplace still haunts her. She's wracked with guilt that she didn't put down her camera and help.
That's the stuff of fiction, says Appleton.
"When you're in a moment like that, it's just common sense," she says. "You do the human thing. Usually, in my experience, when somebody needs help, journalists help. You just don't see that; we don't go and photograph each other when we're helping. I've been in dozens of situations where people put the camera down."
Still, Appleton says, you can't get hung up on each individual situation. The job of the photojournalist is to get her pictures out into the world.
After The War, The Discomforts Of Home
In the play, Sarah's boyfriend, who's also a journalist, is tired of playing war. He just wants his next trip to be somewhere fun — like Disneyland or Club Med.
But Sarah can't reconcile the comforts of her life in New York with the atrocities she's seen. Appleton says this struggle is all too familiar.
"Far and away, the hardest part of covering conflict is coming home," she says. "To hear people talk about their new car that has a cup holder that heats up and cools their drink — when you come back from war and hear somebody talk about that, I can't begin to describe how devastating that is."
That's just the kind of disconnect Margulies says he wanted to capture.
"My plays are really about people who live in the real world ... in all of its colorations and all of its terror and joy," he says.
"So the problem of writing this play was really to keep the humanity of all of these characters, and to not present any tidy conclusions for any problem that arises."
When the play ends and audiences leave the Geffen Playhouse, Margulies hopes, his characters and their questions about their own capacities for empathy in a world fraught with war and destruction will remain — at least for a moment.