Optimism Boosts Florida Housing Market
Housing Market On The Mend?
Single-family home sales prices in the Fort Myers-Cape Coral area of Florida fell 59 percent between January 2008 and January 2009. In January 2009, the median sales price was $94,900, compared to $234,000 for the prior year.
In January, Lee County, which includes Cape Coral, registered a 43 percent increase in home sales compared to a year earlier.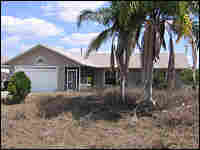 "First in, first out" is a popular phrase in the Florida real estate industry. In a state hit early by the economic downturn, there's hope it will be on the leading edge of a recovery.
Construction and real estate play big roles in the state's economy. With the collapse of the housing market, Florida was one of the first states to feel the effects of the recession.
On Florida's Gulf Coast, the area around Cape Coral is sometimes called "ground zero" of the nation's housing crisis. Last year, it led the nation in foreclosures.
It's not hard to find neighborhoods that have been devastated. On one block of Northwest Second Avenue, at least half of the houses on the street are vacant. There are a few sale signs. High weeds grow under the palm trees at one house. Others have their windows and doors covered by storm shutters.
Emerging Signs Of Hope
But those who follow the real estate market here are starting to see some signs of hope. Brett Ellis, a real estate agent with RE/MAX, sums it up: "Sales are picking up and the inventory is going down."
The increase in sales has been especially notable in Cape Coral. The Florida Association of Realtors reported a 43 percent increase in January over last year's sales in Lee County.
In his office, Ellis says the increase has been more than 70 percent, and half of those sales are taking place in Cape Coral. It's an upward trend that's been taking shape over the past year. After a devastating 2007, prices began dropping in 2008 and the market responded.
"Buyers got their confidence up, their moxie up in 2008," Ellis says. "They recognized good value; they jumped on it. The banks responded, everyone responded, the market moved and the transactions started flowing again — even the short sales and the foreclosures."
A year ago, the median price for a home in Lee County was more than $225,000. Today, it's less than $100,000. Those steep price declines have encouraged first-time homebuyers with good credit, and lots of investors.
In recent months, prices have begun to flatten out. In some desirable locations, Ellis says, they may even soon begin to rise.
Hard To Sell When There's A Smell
More than three-quarters of the homes sold in Lee County in the past year, Ellis says, were distressed sales — properties that were either in foreclosure or on the way. And more are coming on the market daily.
Ellis stops by one house in foreclosure to prepare a price opinion so it can be put back on the market. It's a three-bedroom, two-bath house that's clearly seen better days. Christmas lights still hang out front. Orange trees, heavy with unpicked fruit are in the backyard.
As he steps into the house, Ellis says: "One of the things I look for is, are the appliances here? What does the flooring look like? In this particular home, I detect a slight sense of dog in his property and if you can smell it, it's hard to sell it."
Foreclosures have actually showed signs they may be declining in Lee County. Even optimists like Ellis hesitate to make too much of the recent downturn, however, in part because of the large numbers of adjustable-rate mortgages that are due to reset in 2010 and 2011.
But in the meantime, foreclosures are being finalized and deeds conveyed in Lee County at a record pace. On some days, more than 100 foreclosed properties are sold at courthouse auctions.
Signs of A Shrinking Inventory
And here's a positive sign: Even with hundreds of foreclosed properties coming on the market each month, the inventory of houses that are for sale is shrinking.
At current rates, there's now just over a 12-month supply of houses for sale in Cape Coral. That's still higher than the three- to six-month inventory typical of a healthy housing market.
But Jeff Tumbarello, who studies the market for the Southwest Florida Real Estate Investment Association, says it's becoming harder to find real bargains.
Attracting Investors
Matt Zacharias, a general contractor from Lancaster, Pa., had some luck. He recently bought a three-bedroom, two-bath home with a pool and its own boat dock. He paid $182,000. Sixteen months ago, the house sold for more than $500,000.
"The market down here, the prices are just too good to be true," Zacharias says. "I had to come down and check it out for myself. One thing led to another and here we are — I'm actually going to look at another property later as another investment property."
Zacharias says some of his friends from Lancaster are also looking at properties in the area.
But a resurging housing market doesn't mean the recession has relented. Lee County's unemployment rate is one of the highest in the state, at 10 percent. There are plenty of vacant storefronts along with the vacant houses. Declining assessments have left Cape Coral's city government with little choice but to lay off workers and to cut services.
Affordable Housing Returns
Mayor Jim Burch, however, prefers to dwell on the positives. Just a few years ago, he and other elected officials worried about how, with rising costs, housing in the city was being priced beyond the means of teachers and police officers.
"It's kind of solved that problem," he says. "Affordable housing is back. That also attracts business. It also attracts residents to come into our area. We should take advantage of that and we will."
Burch isn't quite ready to say that Cape Coral has reached the bottom of the housing market, but he believes it's probably not far away. "We do believe in the first in, first out theory: We were the first in, without a doubt and we think, right now, we're getting ready to be the first one to come out of this," he says.
A Cautionary Tale
Economist Hank Fishkind, like others who watch the housing market, notes it's not possible to know you've hit the bottom except in hindsight, after prices have begun to rise. He agrees though that Cape Coral is probably close to the bottom.
And eventually, Fishkind says, most of the city's oversupply of houses will be absorbed by the market. "I think there's no doubt about that," he says, "but it will be the houses that are in the best of locations. There are some houses that are in such far-flung locations in such scattered development patterns, that there may be very little demand for them at any price. Some houses will be abandoned."
A cautionary tale likes just 50 miles south of Cape Coral. Golden Gate Estates was planned in the early 1960s as the world's largest subdivision, with some 400,000 homes. Eventually, it went bust. Today a few thousand homes are scattered across the 172-square-mile area.
The rest of it has been reclaimed as a nature preserve.