Economy Talk Fills A Laptop
Economy Talk Fills A Laptop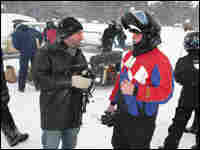 Staying In Touch
Follow David Greene as he travels the country, and help him find interesting stories along the way.
On some reporting assignments, I worry I might not find enough people to interview.
During my current assignment — chatting with Americans about the economy during President Obama's first 100 days in office — I've had the opposite problem: too many potential interview subjects.
So many people have been touched by this recession; it's hard to know where the next story may come from.
I began to get this sense from the moment my trip began. On Day 1, back in late January, I was on a small plane, landing in Michigan's Upper Peninsula, and the woman sitting next to me, Joanne Umbrasas, brought up the economy.
I wanted her on tape. So as soon as the seat belt sign went off, I went in the overhead bin and yanked out my recorder.
"Just talk me out of the airplane," I told Joanne, hoping she could give me some nice tape, setting the scene. She obliged.
"We've just landed at the Chippewa County Airport, Kinross, Mich.," she said.
Then I got down to business. I asked her to re-hash what she had told me during the flight, how she's a public housing official and was just returning from Chicago after attending a summit on the recession and housing programs.
She turned out to be a great interview.
"You know, one of the things we always laugh about here in the Upper Peninsula of Michigan is we're economically depressed all the time," she said. "So we didn't know there was a problem."
I used that last bit on one of my first on-air pieces from the trip.
I felt like I had struck gold — first person I meet, great conversation. But this also underscored how a good story could pop up anywhere. So how was I supposed to decide whom to record?
My solution has been to record as many people as possible. The result is unsurprising — I've collected more sound than on any assignment I've ever done.
At gas stations, in parking lots, in bars, restaurants and hotels, I've kept approaching people:
"I'm a radio reporter, and I'm actually driving down I-75 doing stories on the economy..."
"I'm doing a road trip across the country, talking to people about how life is these days..."
"We're talking to people around the whole country — musicians, everybody — about the economy. Have you guys felt it at all?"
Replaying all these variations of the same question has given me a laugh. And the hours of audio have filled the memory on my laptop.
Not every interview is a blockbuster. But not once did I regret walking up to someone and sticking out my microphone.
"Don't mind this," I said, as I put my microphone in front of George Beiro, a 76-year-old retiree. He was sitting with friends recently outside a Cuban restaurant in Tampa, Fla.
Beiro, who retired after years working for a local bakery, said he hasn't felt the recession personally. And truth be told, our conversation might not find its way into one of my economy stories.
But meeting him was a true pleasure.
"Here's where I spend the last of my years, sitting in a chair smoking a cigar," he told me. "It's nice. But after so many years working, it's all we got now, sit around and talk [expletive]... pardon the language."
This trip has taken some adjustment. Usually, there's a time to put the radio equipment away — relax, go out to dinner. But on this trip, it's hard to find the line between on duty and off.
One night, I stopped at a karaoke bar. I hadn't planned on doing interviews. But I thought if I found someone to talk to, I'd want sound of them singing. To be safe, I let my recorder roll — the entire night.
At one point, the guys working at the bar were fumbling through the list looking for the next singer.
"David?" one said. "That's not David — that's a girl," the other man said, pointing to a woman who was working her way toward the stage.
As I feared, they were looking for me. I do like my karaoke, and in a moment of weakness, I signed up for one of my favorites — "The Gambler" by Kenny Rogers.
And as I took my turn on stage, I didn't shut off the recorder. It was still rolling away.
That rendition of a Kenny Rogers' classic is the only tape from this trip I'm going to erase.