Obama Astounded By Latest Jobs Data
President Barack Obama Friday called the loss of 651,000 U.S. jobs in February "astounding." Obama was in Columbus, Ohio, to meet with police department recruits whose jobs were protected by the government stimulus package passed last month.
ROBERT SIEGEL, host:
From NPR News, this is ALL THINGS CONSIDERED. I'm Robert Siegel.
MELISSA BLOCK, host:
And I'm Melissa Block. Astounding - that was President Obama's word today for the number of Americans who now find themselves unemployed.
President BARACK OBAMA: Just this morning, we learned that we lost another 651,000 jobs throughout the country in the month of February alone, which brings the total number of jobs lost in this recession to an astounding 4.4 million.
BLOCK: While we're talking numbers, the president preferred to focus on a much smaller figure, 25. Mr. Obama was in Columbus, Ohio, where the city's police department was able to save 25 jobs. That's thanks to money included in the massive economic stimulus package signed into law last month. NPR's Don Gonyea reports from Columbus.
DON GONYEA: The president came to Columbus for a graduation ceremony for police recruits, a ceremony that almost didn't take place. These police hopefuls got word at the end of January that deep city budget cuts meant the jobs they were training for were being eliminated. More recently, they got a reprieve, making them direct, individual beneficiaries of the recently enacted stimulus bill. The city of Columbus received a grant for $1.25 million to help keep police officers on the street. So the welcome Mr. Obama received as he stood on stage at the morning graduation ceremony today was especially warm. The president offered congratulations.
Pres. OBAMA: You have studied hard, you have trained tirelessly, and there is no longer any doubt that you will be employed as officers of the law when you leave here today.
(Soundbite of clapping)
GONYEA: But as he addressed these 25 men and women, each relieved to have a job, he also turned to the much more sober news of the day: an unemployment rate nationally of 8.1 percent.
Pres. OBAMA: I don't need to tell the people of this state what statistics like this mean because so many of you have been watching jobs disappear long before this recession hit. And I don't need to tell this graduating class what it's like to know that your job might be next.
GONYEA: The president continued to promote the need for bold action by the federal government, and he criticized those who continue to argue that the economic stimulus package was too large.
Pres. OBAMA: There are those who believe that all we can do is repeat the very same policies that led us here in the first place. But I also know that this country has never responded to a crisis by sitting on the sidelines and hoping for the best.
GONYEA: Afterward, he sat on the stage and watched the swearing-in ceremony.
Unidentified Man: And that I will well and faithfully…
Unidentified Group: And that I will well and faithfully…
Unidentified Man: …discharge the duties…
Unidentified Group: …discharge the duties…
Unidentified Man: …of the office of police officer.
Unidentified Group: …of the office of police officer.
GONYEA: The new officers filled the stage in dress-white shirts, black ties, on each chest a new, gold badge. Ohio is the eighth state Mr. Obama has visited as president to hold public events. He's told his staff he wants to get out of Washington regularly to keep in touch with the public. But Fordham University political scientist Jeffrey Cohen says it's also part of the perpetual campaign.
Professor JEFFREY COHEN (Fordham University): Presidents are always campaigning for public support, not just to win elections but also to promote their public policies.
GONYEA: Six of those states President Obama has visited are new blue states, each with a history of voting Republican in presidential elections until they voted for Obama. Professor Cohen…
Prof. COLLINS: One motivation for a president to go to a state like Ohio is to solidify his support in that state, and to put pressure on the congressional delegation in Congress, where you have still some Republicans who may feel some public pressure from their constituents.
GONYEA: Of course, those are also the states with the most voters in the middle, states the White House sees as critical to moving the president's agenda on a host of issues in the months to come.
Don Gonyea, NPR News, Columbus, Ohio.
NPR transcripts are created on a rush deadline by Verb8tm, Inc., an NPR contractor, and produced using a proprietary transcription process developed with NPR. This text may not be in its final form and may be updated or revised in the future. Accuracy and availability may vary. The authoritative record of NPR's programming is the audio record.
U.S. Unemployment Rate Jumps To 8.1 Percent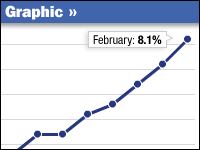 Employers cut 651,000 people from already thinning payrolls in February, pushing the unemployment rate to 8.1 percent, the Labor Department reported Friday.
The number was even worse than many economists had expected and is a substantial increase from 7.6 percent in January. The rate is the highest since 1983.
"Since the recession began, the rise in unemployment has been concentrated among people who lost jobs, as opposed to job leavers or people joining the labor force," said Bureau of Labor Statistics Commissioner Keith Hall.
Cutbacks came across economic sectors in a brutal reminder of how deep and broad-based the recession has become.
January's job cuts were revised to show a steep decline of 655,000, while December's payrolls losses were adjusted to 681,000, the deepest since October 1949. Since the start of the recession in December 2007, the economy has purged 4.4 million jobs, bleeding more than half of those in just the past four months.
"It's another very bad number in February," Nariman Behravesh, chief economist of Global Insight, told NPR.
"It still looks like the jobs market is in something of a free fall," he said. "None of these numbers provide any room for optimism or hope yet."
Hugh Johnson, the chairman and chief investment adviser of investment firm Johnson Illington Advisors, said Friday that leading indicators point to more job losses for "at least the foreseeable future."
"Let's call it three months, probably six months," Johnson told NPR. "I think the most optimistic outlook is that the economy will start to recover in the third quarter. And, candidly, the stock market's telling us that that may be too optimistic an outlook."
Some 168,000 manufacturing jobs were lost in February, after 257,000 positions in that sector were shed in the previous month. The construction industries lost an additional 104,000 jobs after 118,000 were cut in January.
The service industry slashed 375,000 positions after shedding 276,000 in January. Financial companies reduced payrolls by 44,000. Leisure and hospitality firms chopped 33,000 positions.
The few areas that were spared included education and health services, as well as government, which boosted employment last month.
President Obama, speaking to police academy graduates in Columbus, Ohio, later Friday called the 4.4 million job losses in the last 14 months "astounding," saying a cycle of job losses is "not the future I accept for the United States."
A total of 12.5 million workers are now classified as unemployed. In addition, the number of people forced to work part time for "economic reasons" rose by a sharp 787,000 to 8.6 million, the Labor Department said.
From NPR staff and wire service reports