The Dodos' Tribal-Folk Crossover : World Cafe Like a less frenetic Animal Collective, The Dodos' members combine country-blues finger picking and tribal drumming in a way that's propelled them to the forefront of experimental folk music. Last year's Visiter aims to capture the bouts of passionate singing and explosive drum rhythms that characterize the band's live sets.
The Dodos in Studio on World Cafe 3/10/09
The Dodos' Tribal-Folk Crossover
The Dodos' Tribal-Folk Crossover
The Dodos in Studio on World Cafe 3/10/09
Set List
"Ashley"
"Horny Hippies"
"Undeclared"
"Winter"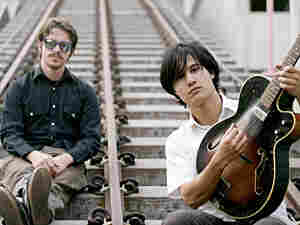 The Dodos began as the unlikely partnership of Meric Long's country-blues finger picking with Logan Kroeber's experimental drumming. By incorporating their experiences with West African Ewe drumming and prog-metal, The Dodos created a sound driven by polyrhythmic tribal beats and acoustic guitar, as well as sincere lyrics. Though the band's almost primitive play with syncopated beats has likened it to acts such as Yeasayer and Animal Collective, Long and Kroeber have developed a distinctly lyrical and sweet folk style.
The Dodos' propulsive sound is best consumed live, but it's captured effectively on band's sophomore album, Visiter. The constant conversation between driving guitar and energetic drum patterns turns what would otherwise be simple folk-pop melodies into dynamic, danceable hits. In a session with host David Dye, the duo discusses the complex creation of Visiter.
Related NPR Stories
Web Resources