The Last Photo Ever Taken Of Lincoln?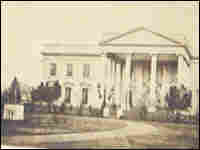 A photograph that once belonged to the man largely credited with helping Abraham Lincoln win the Civil War, Gen. Ulysses S. Grant, has been unearthed — and it could be extraordinarily rare.
The image, taken in 1865, shows the White House, but what's remarkable about it is a man standing in front. Some historians believe it could be one of the last photographs taken of Lincoln before his death in April that year. It also bears the seal of photographer Henry F. Warren, and a government tax stamp that was issued between 1864 and 1866.
Grant's great-great-grandson, Ulysses S. Grant VI, stumbled across the photo in a family album. He carefully removed it and was shocked to see this handwritten inscription on the back: "Lincoln in front of the White House."
There's just one problem. It's not clear the man is in fact Lincoln. He is tall, however, compared with four other figures standing nearby. (Lincoln was 6-foot-4.) He also appears to have facial hair similar to Lincoln's signature beard and is dressed in a black frock coat. But is it our 16th president?
Material from The Associated Press was used in this report.