Trio of Teens Share a Single Piano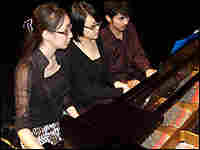 When pianists Wei Wei Hsu, Si Yi Fang and Kaisaer Ainiwaer all sit at one piano they call themselves 6HM, which stands for Six-Handed Monster. "Playing six-hand piano is fun because it's so energetic and loud," says Kaisaer.
Fun as it may be, playing six-hand piano poses several challenges as well. "We all have different playing styles which is challenging," explains Wei Wei. "Si Yi has a more delicate sound, Kaisaer has a louder sound, and I'm the one who is always rushing. It was hard to find a balance at first."
The trio had to work through a few physical issues as well. "We share such a tight space, and our hands are always fighting with each other," explains Si Yi. "We're all used to letting our elbows move all over the place, but in this situation we had to make compromises to work together in the small space."
The students met in Michigan at the Interlochen Arts Academy. They perform an arrangement of "America" from West Side Story by Leonard Bernstein.