For Fighter Pilots, Same Swagger, Different Jets
For Fighter Pilots, Same Swagger, Different Jets
The first of a two-part series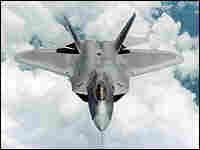 Lockheed Martin via Getty Images
Nicolas Asfouri/AFP/Getty Images
More From Chuck Yeager
Gen. Chuck Yeager began his Air Force career in World War II. He often credits his success as a fighter pilot to his eyes, but he also says back then a lot of the flying was less the plane and more the pilot.
Chuck Yeager On Being A Successful Fighter Pilot
In 1947 Yeager became the first man to fly faster than the speed of sound. Today, the plane he flew, the X-1, hangs in the Smithsonian in Washington, D.C. He has a few pointers for anyone visiting the museum and looking at the plane.
Chuck Yeager On The X-1, The Plane In Which He Broke The Sound Barrier
Yeager says that today's air combat is done almost entirely over the horizon, with radars and long-range missiles. He also says that remote-controlled aircraft are very likely the way wars in the future will be fought.
Chuck Yeager On The Future Of Aircraft Technology
From the first days of combat flight in World War I, fighter pilots have become romanticized figures in popular culture.
In movies, military pilots are often portrayed as disciplined, self-assured, athletic and fiercely competitive, a characterization popularized in the 1986 film Top Gun, about the students at a Navy flight school.
That characterization may not be so far from the truth, says retired Col. Dick Anderegg, who was an instructor at the Air Force's version of Top Gun: Fighter Weapons School, at Nellis Air Force Base in Nevada.
"I think that's one of the reasons why Air Force and Navy fighter pilots like that movie — I think they got a lot of it right," he says.
Anderegg says one of the things Top Gun got right is the brutal selection process that produces fighter pilots.
"I think they have to love the competition," Anderegg says. "You have to love competing in the air, you have to love competing intellectually, you have to love competing physically. And if you don't like that kind of thing, you either won't try it or won't be very successful at it."
That competition produces people who are supremely confident. And they have to be.
Ask any fighter pilot and he'll tell you a dogfight is no place for self-doubt. Results are the only thing that matters, and everyone in a squadron knows if you succeeded or choked.
"There's no crying in being a fighter pilot — or in fighter pilot debriefs, either," says Lt. Col. Charles "Corky" Corcoran, a squadron commander in Alaska. "I tell someone in my formation I want them to start at 10, and they start one second early or one minute earlier, I'm going to go ask them in the debrief, 'Why did you do that?' And I'm going to get to the root cause of why they did that, because we need to be perfect in everything we do, because it is a life-or-death business. "
If there's a quintessential fighter pilot, it's probably Chuck Yeager, best known as the man who broke the sound barrier in 1947.
"When I first started flying fighters and went into combat in 1943, everything was sort of instinct," Yeager says. "Like, if you're dogfighting a German fighter, and you had to figure out the lead in order to shoot in front of him. It was instinct. And that instinct was developed with a 12-gauge shotgun in your hand, shooting birds."
The fighter-pilot swagger hasn't changed since the days when Yeager was flying P-51 Mustangs over Germany. But the planes have, says Corcoran.
He says it's "easier to be good at the job because the planes are so advanced." Corcoran used to fly F-15s, which are far more advanced airplanes than what Yeager flew in combat. Now Corcoran flies the F-22, the most advanced fighter jet in the world.
"In the F-15, it was easier to separate the men from the boys," Corcoran says. "It was easier to tell who was good and who wasn't, because the airplane couldn't hide your mistakes. We have built something that makes them good."
That isn't to say that you no longer have to be good to fly the thing: New technology puts new demands on a pilot.
Part two of this report, which aired Tuesday, March 17, examines how some of today's fighter pilots are training for wars where they may not be needed.