Beijing Neighbors Unite Against Incinerator Plans
Beijing Neighbors Unite Against Incinerator Plans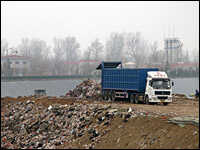 With millions of people being thrown out of work and politically sensitive dates, such as the 20th anniversary of the Tiananmen Square massacre, approaching, China's government is especially wary of any social movements or activism this year.
But one battle cry is proving effective in uniting citizens: "Not in my back yard!"
One Beijing community's fight against plans to build a garbage incinerator illustrates how environmental activism is intersecting with a nascent homeowners' rights movement. China's NIMBY activists have made progress in recent years in halting several major projects, including a chemical plant in southeast China's Xiamen city and a planned extension to Shanghai's vaunted magnetic levitation train, or maglev. Shanghai officials reportedly suspended the extension after residents' concerns about electromagnetic radiation led to street protests last year.
A Polluted Back Yard
Looking out from the south side of the Liulitun dump in northwest Beijing, visitors can see large trucks filing in and dumping garbage in the landfill. Flocks of black crows nest in the trees and then glide onto the landfill to pick over the garbage. A 1950s vintage brick kiln next to the garbage dump belches smoke from its smokestacks.
A fetid little pond is all that's left of acres of wetlands. Rice paddies here once supplied grain to the imperial court. Now, a fan pumps foul vapors out of the landfill through chimneys.
"These black chimneys often release stinking air," says Wu Jiyong, a local resident, pointing to chimneys protruding from the landfill. "It's methane, and it smells so bad that the residents around here can barely breathe. Everyone within a six-mile radius can smell the stench."
This is not some impoverished rural backwater, Wu emphasizes; this is Beijing's Haidian district, home to the nation's top universities, software industrial parks and the country's astronaut training base.
"In order to put the landfill here, Haidian district told the city government there were no villages within 1.2 miles of the landfill," Wu says. "In fact, within half that distance from the dump, there are 11,000 residents."
Wu Manzhu is one of the residents. She lives in a block of apartments belonging to the brick factory, a stone's throw from the dump.
"They said there are no residents for miles around. Where did we come from, the sky?" Wu asks angrily. "We've been here for more than 30 years. Our factory's workers dug the pit used for the landfill. Now we realize that we were digging our own graves."
Incinerator Plans Add To Worries
The residents complain that in summer, the dump's stench is so bad they can't sleep and have to shut their doors and windows. They say cancer and respiratory illnesses have become more prevalent since the landfill was opened in 1994.
Wang Qinglan, 80, says that he and his neighbors are now worried about plans to build an incinerator on the site. Plans for the incinerator were put on hold after national environmental officials questioned the project. But earlier this year, a Beijing government Web site posted a schedule for the incinerator's construction this year. The posting was later removed without explanation.
"Really, we don't know what kind of equipment this incinerator is, what its harms or benefits are," says Wang. "We hear it emits something called dioxin. It causes cancer, but you can't see it or smell it."
Beijing's Municipal Administration Commission has defended the decision to build the incinerator, saying the city doesn't have enough space for its garbage, which is increasing at the rate of 8 percent a year.
Airing Environmental Concerns
But many experts side with the residents. Zhao Zhangyuan, a garbage treatment expert at the Chinese Academy of Environmental Sciences, once thought that incinerators would help solve Beijing's garbage problem, as long as they weren't located too close to densely populated areas. But now Zhang has changed his mind and says Beijing needs to recycle, not incinerate.
"This problem has come up as other countries are transitioning away from incinerator technology," he says. "Residents oppose the incinerators. But the government has already made its plans to build these facilities and is reluctant to pull out."
The residents were cheered by a press conference on March 11, when Wu Xiaoqing, the vice minister of environmental protection, gave his agency's opinion about the Liulitun incinerator project.
"The project managers should further assess the project's environmental impact and sample public opinion more widely," Wu told reporters. "They should report their findings to the Beijing Environmental Protection Bureau for approval. Otherwise, construction of this project may not proceed."
High Price For Activism
Liulitun residents often quietly gather in each others' apartments to discuss the situation. Homeowners fighting for their environmental rights may have an easier time than activists advocating freedom of speech or religion. But they say police have threatened them and arrested some of them when they staged sit-ins at the dump and government offices.
Wu Jiyong says they've paid a high price for their activism.
"It's too hard for ordinary folks to protect their rights," he sighs. "No one pays attention to us. They don't treat us like people. OK, so we're not worth much money. But they're destroying the environment, and we've only got one Earth, you know?"
Police intimidation has kept Liulitun residents too afraid to establish a formal organization or link up with other communities fighting to keep garbage incinerators out of their backyards.
On the other hand, the government has paid a high price, too. In recent years, the former head of Beijing's Haidian district was sentenced to life in prison, and the head of the local real estate management bureau committed suicide by jumping out of a window while in the custody of Communist Party investigators. Both men were implicated in corruption cases related to the Liulitun landfill.
Haidian district authorities referred questions about the landfill to Beijing's Environmental Protection Office, which declined to comment.