Oregon Town Unites In Version Of 'Biggest Loser'
Oregon Town Unites In Version Of 'Biggest Loser'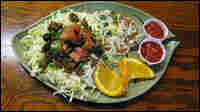 Studies On Rural Obesity
The Center for Rural Affairs released a paper that shows problems in nutrition and activity in rural areas of the U.S. Read the facts and what people can do about it.
Every Tuesday morning, a new sign goes up in the storefront window of The Mercantile, the only grocery in Fossil, Ore.
The lime-green cardboard sheet names the remote central Oregon town's biggest losers. But there's no shame attached to the distinction. The big losers are considered big winners as they compete in a 12-week contest to lose weight.
Eighty people are involved. That's close to 20 percent of Fossil's population of 450. And so far, they've collectively lost more than 600 pounds.
The contest originated at the Asher Community Health Center, the town's clinic, where receptionist Anne Odom and outreach coordinator Keri Bianco couldn't stop talking about their weight.
"And we would go out to lunch and have hamburgers and french fries and talk about how we shouldn't be eating this and go, 'Oh, this is so good,' " Bianco recalls.
"We were gaining weight, and we were sick of it," Odom adds.
So she and Bianco started an intra-office competition. And nothing stays quiet in a small town. An article in the local paper had townspeople calling to join the weight-loss effort, and it mushroomed from there.
Studies On Rural Obesity
A series of studies indicate that rural people have a slightly greater tendency toward obesity. That tendency increases significantly in rural counties in Southern states.
"There is plenty of anecdotal and statistical evidence to show that rural people were once better off in terms of physical activity, nutrition and weight," writes Dr. Joe Blankenau of Wayne State College in Nebraska. Blankenau recently published a summary of rural obesity studies for the Center for Rural Affairs. He concludes that "rural residents generally fare worse than their urban counterparts in regards to obesity, which is opposite to the situation that existed prior to 1980."
Physician assistant Debbie Boettner arrived in Fossil from Austin, Texas, 18 months ago and shared some of her observations.
"Obesity is not as big an issue as I thought it would be," Boettner says. "However, because of the age of the population, we have many people with the combination of hypertension, hyperlipidemia (high cholesterol) and diabetes. And for those conditions, even a modest increase in weight can make a huge difference in their ability to control their diabetes, control their hypertension and control their elevated cholesterol."
Fossil's 'Biggest Loser' Campaign
So Boettner embraced the interest in collective weight loss and became cheerleader, taskmaster and aerobics trainer for what became known as Fossil's "Biggest Loser" campaign.
Yes, it's modeled after the reality TV show of the same name, in which obese people train and diet hard to lose weight. Watching that show prompted 43-year-old Marie Stevens, a child care worker, to join the Fossil effort.
"I cried. And I thought, 'That's me. And I need to do something,'" Stevens recalls.
Now she weighs in weekly at the clinic like the rest of the town's losers, trying to trim 20 pounds from her 250-pound frame. In Week 9, she scored a personal best, a loss of 3.5 pounds, and danced and cheered on the scale.
"I'm excited because I'm losing weight and getting healthy," Stevens gushed, as clinic workers clapped.
The weekly Monday weigh-ins are followed by a group meeting in a small conference room at Fossil's Family Services Center. It's actually part pep rally and fitness class. The biggest weekly losers are named and cheered. And everyone has a chance to testify to their own success.
"I've got 2 pounds to go and I'll be on my goal of 25 pounds," shouted Tom McNeil, the co-owner of The Mercantile. "When was the last time you weighed that?" someone shouted back. "Twenty-five to 30 years ago," McNeil replied to laughter and applause.
The weekly winner gets a pound of fat, or what looks like a pound of fat, to take home and display on the mantel. Local businesses also offer gift certificates as prizes.
Working Out In The Grade School Gym
After the meeting, the group heads over to an old white barnlike building on Main Street. It's actually the grade school gym, and it's the only place to work out without driving for hours.
Seven days a week, dieters can walk the gym floor's perimeter or do tai chi, meditation, resistance training and aerobics. The nightly workouts are brutal: a half-hour of hard aerobics and another half-hour of resistance work. Sweat drips and faces flush as arms and knees pump to the music.
The only equipment is floor mats from the school and bargain resistance bands found on the Internet for $5 and free shipping.
The group improvised before the resistance bands arrived.
"We started out the first week or two with my husband buying 500 pounds of sand, and people brought water bottles," Boettner explains. "We filled them up with sand ... and depending on the size of the water bottles, you had either a 2- or a 3- or a 4-pound weight."
Boettner also notes that the group has no stationary bikes, treadmills, elliptical machines or stair-climbers.
"When we climb stairs, they're actual stairs and we climb them," she says, laughing. "We do it the old-fashioned way."
Local Grocery Store, Restaurant Play Along
With only one grocery store in town, it's hard to cheat. And both the owners and the clerks at The Mercantile count calories for customers.
Co-owner Betty McNeil says some cash-register conversations go like this: "Two hundred thirty calories in that cupcake. Do you know what you're doing? Do you really want that?" she says, laughing. Then she notes that townspeople have to leave town to cheat. "It's 20 miles to the next Twinkie," she adds, laughing again.
"The Merc," as the locals call it, also aims for positive reinforcement with more fruit, vegetables and yogurt in its coolers. Demand for the good stuff has skyrocketed. And there are the signs in the storefront window charting the town's thinning waistlines.
Around the corner, the Shamrock Bar and Restaurant weighs in with a daily "biggest loser" special.
"Their whole lunch today is going to be approximately 250 calories for the biggest loser special," says manager Anna Marie Odom, as she cuts tacos for what might be called the "biggest eater's special." That's 800 calories of taco salad, soup and deep-fried taco chips dipped in cinnamon and sugar. The diet version skips the chips, beans, tacos and chili.
Miraculous Results
Odom has noticed the difference in customers eating right and exercising.
"There are people who needed knee surgery [who] no longer need knee surgery," she says. "People's blood pressure is down. Their cholesterol levels are down. It's just astonishing. We've got to be one of the healthiest little communities in Oregon."
The clinic verifies the miraculous results. There are also social benefits. Melanie Robinson, a tutor and graphic designer, lists the Fossil "social sectors" that show up at the workouts and meetings.
"The Methodist Church sector, the Baptist Church sector," she says. "The Shamrock sector. The older sector. The Red Hat ladies. The courthouse people. It's brought people together."
The weight-loss effort has also helped heal the town in the wake of a divisive proposal to put a sex-offender treatment facility near Fossil.
"I've seen all of them in the same room laughing, talking, visiting with each other," observes Jeanne Burch, the county judge. "I saw some [talking] on the street the other day that I knew were on opposite sides of the issue. It was healing because they refocused into something that was positive. And the positive is to be healthy."
The weight-loss contest wraps up at the end of the month. The winner gets the pound of fat and $600. But townspeople vow it won't end there. There's a half-marathon coming up. The workouts will continue. And there are plans to turn exercise into community service by chopping and stacking firewood for people too infirm to do it themselves.
Betty McNeil at The Merc thinks the rough economy helps keep the weight loss effort going.
"It's given us something else to think about," McNeil asserts. "We've had so little control over what's happened to our retirement. What can you control? Well, your diet. And your weight loss. And your physical activity. You can control that."