Goldman Defends Taking Payments From AIG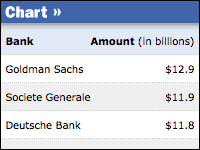 Since last September, the federal government has committed more than $170 billion to bail out the insurance giant AIG. This week, AIG began to spell out what it has done with the money.
It said about half went to big banks to pay off complex trades into which it had entered, and on Friday, one of those banks, Goldman Sachs, talked about its relationship with AIG.
Goldman said it did nothing wrong when it took taxpayer money from the insurance company. As one of Wall Street's biggest investment banks, Goldman Sachs built up a network of ties to a lot of other big financial companies, including AIG.
The two companies engaged in a lot of highly complex transactions involving such arcane fields as stock lending and mortgage trading. In a conference call with reporters Friday, Goldman's chief financial officer, David Viniar, said the firm thought AIG was a safe bet.
"AIG at the time, remember, was one of the largest, strongest companies in the entire world," Viniar said. "They were a very sophisticated, or appeared to be a very sophisticated, trading counterpart."
But last year, it was clear that AIG was on shaky ground. It was doing a massive business insuring investors against credit risk at a time when the economy was getting a lot riskier.
Christopher Whalen, managing director of Institutional Risk Analytics, says Goldman began getting nervous.
"[Goldman was] trading all sorts of things with AIG, so the reason that Goldman had a very strong interest as AIG bailed out was because of all of those exposures," Whalen says.
So Goldman began demanding that AIG put more collateral down on some of the transactions, and so did a lot of other firms. It was what helped push the company over the edge and forced it to turn to the federal government for help.
"Ultimately they turned to the Fed and said, 'Look, everybody is asking us to put up more cash, make payments or put up collateral. We don't have the money. Either we get more money or we have to go file Chapter 11,' " Whalen says.
Had AIG been forced into bankruptcy, its many investment partners would have suffered big losses. But they were spared because the federal government agreed to bail AIG out. This week AIG said it had passed on some $90 billion of the bailout money it received to its partner banks and that Goldman Sachs was among those benefiting the most.
The payout to Goldman has been especially controversial because the bank is so well-connected politically. Its former chairman, Henry Paulson, was Treasury secretary at the time that AIG was bailed out. But Goldman officials say any suggestion of political favoritism is off-base.
Viniar said today that his firm was never in any danger from AIG's collapse — it had demanded and received a lot of collateral from AIG, and it had hedges in place to minimize its risk.
"That is why we are able to say that whether it failed or not, AIG would have had no material direct impact on Goldman Sachs," Viniar says.
But if Goldman was never at risk, Viniar was asked, why did it take $13 billion in taxpayer money from AIG?
Viniar replied that Goldman had a duty to its bottom line because, after all, it too has been part of the federal bailout.
"We also had taxpayer money at Goldman Sachs, and it's part of our responsibility to protect that taxpayer money and not lose it, and so to not comply with the commercial terms we had at AIG would have caused the firm to take a loss where there was no loss coming," he said.
Viniar was also asked whether Goldman bore some responsibility for AIG's collapse because it had pressed the company to put up more collateral.
"All we did was call for the collateral that was due us under the contracts, so, you know, I don't think there's any guilt whatsoever," he said.
Viniar insisted that Goldman had no interest in seeing AIG collapse. He said it would have been a major disaster for the financial markets, and neither Goldman nor any other institution would have walked away unscathed. But he said when AIG began to get in so much trouble, Goldman had an obligation to its shareholders to walk away from potential losses.