Bringing Inner Peace to Southern Lebanon
Bringing Inner Peace to Southern Lebanon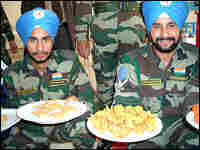 Many towns and villages in Southern Lebanon are still in ruins after last summer's devastating war between Hezbollah and the Israeli army. More than 13,000 United Nations peacekeepers from 18 countries patrol the Israeli-Lebanese border now.
Some international battalions have found novel ways to win the hearts and minds of the local population.
In the village of Ebel es-Saqi, in the farm country of Southern Lebanon, a new subject is being taught at the local middle school: yoga. The instructors are from the Indian army, members of the U.N. peacekeeping force.
Three times a week, Lt. Col. Rajesh Kumar of the 1st Battalion Punjab Regiment instructs about 50 students and their teachers at the school.
Kumar straightens sagging shoulders and aims fluttering arms as he walks around the orderly lines of students who quietly bend to his instructions.
After last summer's war, many of these children were anxious and full of fears, says Waffa Munzer, a teacher at the school. Yoga seems to help them focus, she says, adding that it may help the teachers more.
"I feel my face and all my body is relaxed and happy all the time and that's good for us," she says. "You know in Lebanon that we have many troubles and this aids us to forget everything."
Kumar pioneered the popular classes based on exercises he requires for his troops.
"The man who is eternally at peace can contribute to peacekeeping much more," he says.
Peacekeepers have come to Lebanon from around the globe. Spanish troops hand out cash for rebuilding, Italians deliver generators for electricity and Nepalese instruct computer classes. The Indians planted a patch of medicinal herbs and plants. In addition to the yoga classes, they also provide a free veterinary service.
Whether they can all provide peace is another question. Sandwiched as they are between Hezbollah and the Israelis, U.N. peacekeepers have patrolled this border for 30 years.