Alaska Volcano Erupts Again, No Signs Of Slowing
Alaska's Mount Redoubt erupted a sixth time at 7:41 p.m. Monday, spewing more ash into the air. The explosion followed a cluster of five eruptions Sunday night that sent ash plumes higher than nine miles into the sky. Scientists say the explosions could go on for months, disrupting flights and snow mobile transport.
After several months of rumblings, these eruptions were the volcano's first in nearly 20 years.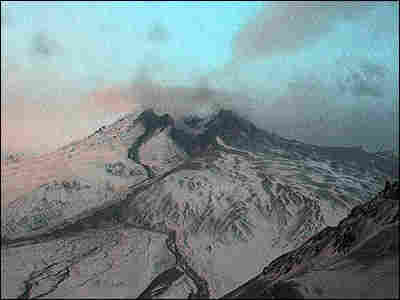 The above Webcam photo shows Mount Redoubt in an ashy haze at 8:43 p.m., just an hour after Monday's eruption.
More than half of Alaska's population lives within the ash fallout zone of Redoubt, says Rick Wessels of the Alaska Volcano Observatory, including Wasilla, Anchorage and the Kenai Peninsula. So far only small amounts of ash have been reported north of the volcano. The National Weather Service had an ash advisory in effect until 5 a.m. Tuesday for the Susitna Valley. So far residents in Anchorage, the state's largest city, have been spared from falling ash.
Above, a March 15 photo shows plumes from the north flank of the volcano from a vent at about 8,300 feet. This was a "little burp" compared with the five eruptions that began at 10:38 p.m. on Sunday, says Wessels.
Below, the top vent in the Mount Redoubt summit crater emits steam on March 21, a few days before the big eruptions. Steam emissions are not considered eruptions because there is no new magma involved.
As of Monday afternoon, isolated earthquakes were still occurring, which could mean more eruptions. During Sunday night's eruptions, earthquakes were continuous. There is "no indication that this is the end of its unrest," says Kate Bull, a geologist with the observatory. Scientists are monitoring seismic activity in the area, keeping an eye out for an increase in tremors.
Mount Redoubt is one of more than 30 active volcanoes in Alaska, located about 110 miles southwest of Anchorage. The Redoubt volcano is a part of the Pacific Ring of Fire, one of the most volcanically and seismically active regions in the world.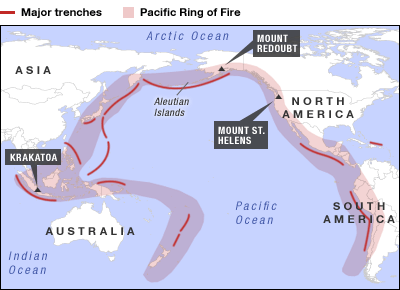 Ash from volcanoes contains pieces of fragmented rock with jagged edges and can injure skin, eyes and breathing passages. Ash can also damage engines in planes, cars and other vehicles. Flights in the region, including some out of Anchorage International Airport, were canceled on Monday.
The Redoubt ash burst pictured below was shot from Soldotna, Alaska, on March 15 and is tiny compared with Sunday evening's eruptions.
The last volcanic eruptions from Redoubt were in 1989 and 1990 and had significant impact on the aviation and oil industries, as well as on the people of the Kenai Peninsula. Ash from the eruption damaged five commercial jetliners and caused several days' worth of airport closures and airline cancellations in Anchorage and on the peninsula. Drifting ash clouds disrupted air traffic as far away as Texas.
Photographed in April 1990, this ascending eruption cloud from Redoubt is reflected in the waters of Cook Inlet.
Material from The Associated Press was used in this report.
Related NPR Stories