Life Stands Still On New Orleans' Honeysuckle Lane
Life Stands Still On New Orleans' Honeysuckle Lane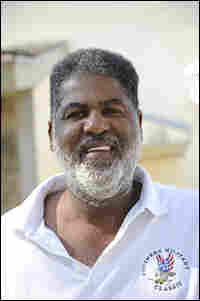 Listen To Previous Honeysuckle Stories
After Hurricane Katrina raked New Orleans in 2005 and scattered its people, NPR began following the plight of those on Honeysuckle Lane. A 20-minute drive from the city center, it's a perfectly average place, with middle-income residents such as cops and school teachers living in midsized homes.
The punishment Katrina inflicted on Honeysuckle Lane was average by comparison: some roof damage, mostly standing water. But the storm turned Honeysuckle into something like a ghost town.
While most of the houses had a foot or less of floodwater, mold had claimed the drywall and the furniture. Every refrigerator was a coffin full of rotten food and had to be replaced. The smells inside the homes were oppressive. Scavengers drove through and took what they pleased. When the water was turned back on, washing machines and dishwashers that had been dislodged in the flooding started spewing water.
A lot has changed since then.
'It's On Now, I'm Stayin' For Good'
NPR's Robert Siegel recently returned to Honeysuckle Lane — located in a part of the city called New Orleans East, which was undeveloped wetland until the '60s — to catch up with some of the people who live there, people like Gaye Hewitt.
"We started rebuilding, we started getting some of the house back together; at least we're back in the house, we're no longer in a trailer," says Hewitt, a former police officer who was doing medical transcription a few years ago. "Then [Hurricane] Gustav came, and we had to start again. We're almost hopefully done with everything before the next storm comes. I hope that takes a while. I think we'll be ready for the next one.
"We still have some damage with the fireplace and everything," she says. "But everything's pretty good. We got us another dog. We lost our first dog in Katrina, so we have another one. The kids are back in school, back in college. I have one son who's now in the police department — and in addition, a 2-year-old granddaughter."
Outside the house, Hewitt pointed to the damage from Gustav. She says the storm tore the top off her shed.
"I'm hoping that they'll have someone who will come fix it up, because it's been a haven for animals and anyone else that's looking for shelter," she says.
Down the street, John Brown, a retiree and avid golfer, is back in his duplex. Two years ago, he said he wasn't coming back, but he changed his mind.
"House comin' along pretty good," he says, adding, "It's on now, I'm stayin' for good."
Sitting in front of Brown's fireplace is a Tiger Woods model golf bag that he won. And he lowered a ceiling to create a room upstairs for his trophies.
Nowadays, the homes on Honeysuckle are furnished with the brand new stuff everyone bought with the insurance money: stainless steel refrigerators, flat screen TVs, newly installed cabinets and refinished breakfast bars. It's the type of stuff that people in New Orleans call "Katrinkets."
The duplex that's attached to Brown's home is a different story — his neighbor hasn't done anything with the space.
But Brown has a larger problem. He was diagnosed with prostate cancer several years ago, and although he's doing well, Methodist Hospital never reopened after the storm.
"One problem was when I had my prostate problem, I had a little setback. I had to go all the way to Houston, Texas, after I had my procedure," Brown says. "The emergency room wait was eight or nine hours. There's just no hospital in the east part of New Orleans for sure."
Lack Of Hospitals, Stores
The lack of a hospital in New Orleans East was the biggest problem the people on Honeysuckle talked about. That and the lack of stores. The Wal-Mart is gone, and there's only one supermarket open.
Lionel Bazanac, a telephone company installer who lives across the street from Brown, says the area is "not quite back yet."
"Friends moved away, never come back," Bazanac says. "Schools never opened up again. So we're still waiting for that normalcy to come back, but we don't know if we'll ever get it."
Honeysuckle Lane resident Ernest Vincent Williams, a singer-songwriter who performs and records as Ernie Vincent, agrees. "Everything is not complete, but at least you're back in New Orleans," he says. "It's a start, beginning, you know."
Ernie Vincent, 67, says a lot of older folks won't come back to New Orleans East until there are services, a hospital, big stores.
"They're not gonna come back if they don't have some type of facility," he says. "Then the other side of the coin is if they're not back, then the people who put the facility up say there's not enough people."
What's Wrong With The Recovery Effort?
By a conservative estimate, there are 60,000 people in New Orleans East. That's a little more than half the pre-Katrina population.
Cynthia Townsend, a widow working two jobs as a nurse's assistant, says she's tempted to move nearer to her five grandchildren. She wants to know what's wrong with the recovery effort.
They all remember one study that said to let New Orleans East revert to wetlands. That's not city policy, but the slowness of things makes Townsend wonder.
"We really need to know what their intentions are — are you all working on our behalf, or are you not?" she says. "If you're not going to be able to do it, then tell us that we can't live here. Put us out."
Her friend and neighbor, Jeane Wooten, says pretty much the same thing.
"What's the master plan? What are they going to do to bring residents to this area? The residents have been back," Wooten says.
She's a fourth-grade science teacher who retired from the New Orleans public schools a few years ago. That was before they fired the whole teaching staff. She now teaches at a charter school just around the block.
"Why is the recovery taking so long? What's stopping the progress?" Wooten says. "And it's usually money, and it's usually red tape, and it's usually politics."