Recession Tests Citizens' Patience With Obama
Recession Tests Citizens' Patience With Obama
Staying In Touch
Follow David Greene as he travels the country, and help him find interesting stories along the way.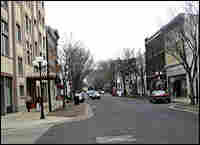 President Obama told reporters at his news conference Tuesday night that bringing the country out of recession will take "many months and many different solutions."
How patient will Americans be?
I popped in for coffee Wednesday morning at Boo's Crossroads Cafe, in downtown Terre Haute on the western edge of Indiana, to ask people that question.
"Because this is the intersection of U.S. 40 and U.S. 41 — and before the interstate — this was the crossroads of America," said 82-year-old Dorothy Jerse. "We claim it."
A Quarter Century Of Breakfasts
Jerse has been meeting the same women for breakfast, every Wednesday for 25 years. When I sat down, these ladies were already talking about Obama's news conference.
"He's always very matter-of-fact," Jerse said. "That Obama-no-drama always shows through. That pleases me. He's telling us as he sees it. It was nothing real new. You know, he was just trying to win over the American people."
Win over the American people. That's language I didn't hear much when I hit the road after Inauguration Day.
At the time, there weren't many people Obama had to win over. These days, Jerse said, she's behind the president 100 percent. But she's beginning to worry about other people.
"It's going to depend how bad this gets. If more and more and more people lose their jobs, people are going to get impatient," she said. "You always blame the president."
Carolyn Toops takes a seat next to me. A Louisiana native, she's been a resident of Terre Haute for many years.
"No, I did not watch the speech last night," she said. "However, I just want to say it's unfair to expect the new president to handle this when he has been in office less than three months. I wish him well. Thank you."
Frustration With The President
But there are some people growing frustrated. Tuesday, I was in an artsy cobblestone district in downtown Dayton, Ohio. Music played outside the bars and coffeehouses.
Inside one coffee shop, I met Matthew Rankin, a 24-year-old college student who says Obama picked a good team when he took office.
"There are a lot of people he's chosen who should know what they're talking about," Rankin said.
Rankin added that Obama and his Cabinet have been explaining their thinking to the American people, and that's a good thing. But he worries their approach to this recession may be, as he puts it, too intellectual.
"You're always trying to collect more information and get an informed opinion on what you need to do," he said. "Sometimes you just need to say 'stop.' Take charge of the situation — make a decision for better or for worse — move on and keep progressing."
Up the street, outside a music store, I met Joe Grunenwald, who was buying a few CDs. He said he is struggling with his feelings toward the president these days.
"You know, it's just... I was excited going in. And it's just hard to be excited now," he said. "And I know things take time, obviously. It seems like things are moving slower than I expected they would."
Grunenwald, 26, lost his job at a publishing company the day Dec. 30.
"I'm having trouble finding anything to hold onto as far as hope... Something to look forward to, I guess," he said.
But don't get him wrong. Grunenwald said he still supports Obama. He's just hoping those new jobs the president talks about are coming soon.