Red River Rises As Thousands Flee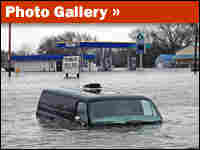 Bone-chilling temperatures have given Fargo, N.D., a much-welcome reprieve from potentially devastating floods.
How long it will last is another question. The weather's expected to warm up Saturday.
Forecasters now say the Red River will not crest in Fargo, N.D., until Sunday. Overnight, bitterly cold weather kept the snow from melting into the Red River, which has swelled to nearly 41 feet. That's just about two feet under what the levees protecting the city can handle, more than 22 feet above flood level — and far beyond the previous high-water mark set in 1897.
Under mandatory evacuations, thousands of people have fled from their homes in Fargo and across the river in Moorhead, Minn.
Residents and National Guard troops have been working around the clock, stacking up millions of sandbags, hoping that will be enough to hold back the rising waters.
Officials in Fargo and Moorhead say they've built makeshift dikes as high as they can, 43 to 44 feet in most places, just above where the river is predicted to crest Sunday at around 42 feet.
Fargo Mayor Dennis Walaker says everyone is now just keeping watch to see how high the water goes, while National Guard troops patrol the dikes to watch for leaks.
Walaker says one big problem is the cold. With temperatures plunging near zero overnight, he says sandbags aren't too effective.
"Well, they freeze," he says. "I mean, basically they turn into rocks. As far as making a good sandbag dikes, frozen sandbags don't do a good job."
The city of Fargo has some 300,000 sandbags reserved indoors for when they're needed to shore up leaking dikes.
NPR reports contributed to this story.
Flood Coverage From Minnesota Public Radio