River Crests, But More Flooding Threatens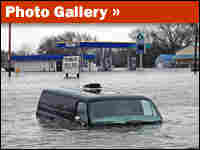 Minnesota Public Radio Coverage
Residents of Fargo are breathing a collective sigh of relief, at least for now. The Red River has crested at just over a record 40 feet. That's below the 43-foot level forecasters said was possible a few days ago.
Still, forecasters say the water level could rise again. Residents are taking no chances.
They're continuing to reinforce the 43-foot high walls of sandbags they've built around the river in hopes of protecting their nearby homes.
Sunday morning, the river briefly breached a dike and flooded buildings at a school campus.