In Rural Wisconsin, German Reigned For Decades
About The Series
Immigrants bring many things to the U.S., but their lasting contribution to the country has always been their children. NPR's series Immigrants' Children looks at that legacy, telling the stories of those children and examining the issues they face.
More From Hustisford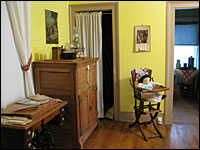 Hear German Music
Along with their own language, Hustisford's immigrants brought German music with them. Irving De Witz remembers becoming interested in the concertina, an accordion-like instrument, when he heard one played at a house party in 1909, when he was just a boy. Many decades later, he recorded some German dance tunes with James Leary, now co-director of the Center for the Study of Upper Midwestern Cultures at the University of Wisconsin. Here's a recording of De Witz playing "Landler," from the CD Ach Ya! Traditional German-American Music from Wisconsin.
"Landler," from the album "Ach Ya! Traditional German American Music from Wisconsin"
In the contentious debate over immigration, critics often assert that immigrants and their children aren't learning English as quickly as previous waves of newcomers did. But did European migrants of yore really assimilate quickly?
You might be surprised if you explore that question in the tiny town of Hustisford, Wis., an hour west of Milwaukee. There, local members of the town's historical society can give you a tour of the well-appointed, two-story white frame house of the town's founder, an Irishman from New York named John Hustis.
Hustis bought some 200 acres of rolling prairie here in 1837 and attracted enough Irish and English settlers to create a frontier town. But within a decade or so, a new wave of pioneers had arrived. In the mid-19th century, in a pattern repeated across the Midwest, large numbers of Germans began buying homes and farms. It was part of a mass migration that would profoundly change Hustisford — and the nation.
Speaking German At Home
Mel Grulke's great-grandparents came to Hustisford from a German speaking part of Europe in the 1880s, toward the end of the big migration. Some say Wisconsin's cold winters and good soil reminded the Germans of home. In any case, they brought a lot of home with them. Soon, two of three schools in Hustisford were teaching all their classes in German. Two churches worshipped in the hallowed language of Martin Luther. And German was the language of commerce.
As Grulke strolls down Hustisford's now largely abandoned main street, he points out the places where he remembers his parents chatting in German with the shopkeepers.
"This was a grocery store on the bottom; it was called Siefeldts." As with several other buildings, the German name of this one is still engraved along the top of the facade. "They had hand-packed ice cream cones, the best in town."
Though Grulke was born in 1941 — a fourth-generation American on one side and third on the other — his first language at home was German. He says of his grandmother, who was born in the U.S., "I don't recall her ever saying any more than three words in English. In fact, my grandfather was rather staunch. He would reprimand us that it was more like a slang language, English. He wanted us to speak German in his presence, which we did."
Grulke's grandparents apparently had plenty of people in Hustisford with whom to speak German.
"In 1910," says Joseph Salmons, a linguist at the University of Wisconsin, "a quarter of the population told the census taker they spoke only German and didn't speak English — a quarter of the population."
That fact stunned Salmons. When he set out to study the area's census, church and court records, he had no idea the language had thrived for so long. The year 1910 was already a full generation after the mass migration had dropped off, yet Salmons discovered not only that many in Hustisford and other farm towns were still bilingual, but that a sizeable portion was monolingual.
"It turns out a lot of these people were born in Wisconsin," Salmons says. "And a fair number were born of parents born in Wisconsin. That is, these guys were not exactly killing themselves to learn English."
Salmons says some Anglos in town even learned German to be able to do business. Court records show some of them used it to swindle the non-English speaking immigrants. Salmons also found records of Anglo children baptized in German churches, even attending German schools. And Wisconsin was not alone.
Taxpayer-Funded Bilingual Schools
"A number of big cities introduced German into their public school programs," says Walter Kamphoefner, a historian at Texas A&M University. Indianapolis, Cincinnati, Cleveland and other cities "had what we now call two-way immersion programs: school taught half in German, half in English," Kamphoefner says. That tradition continued "all the way down to World War I."
In other words, there were taxpayer-funded bilingual public schools in the U.S. a century ago.
How did that happen? "The simplest explanation is ethnic politics, ethnic lobbying," Kamphoefner says, "especially just after the Civil War, when the German vote was kind of up for grabs."
Not that the notion wasn't contentious. In 1889, Wisconsin and Illinois passed laws mandating that schools teach only in English. But Kamphoefner says the ethnic backlash was strong, and the laws were soon repealed. He has come across evidence that as late as 1917, a German version of the "Star Spangled Banner" was still being sung in public schools in Indianapolis.
It has always taken immigrants a generation or two to fully transition to English, Kamphoefner says. Languages like Italian, Polish and Czech also popped up briefly in public schools. But German was unique.
"It was in a similar position as the Spanish language is in the 20th and 21st century," he says. "It was by far the most widespread foreign language, and whoever was the largest group was at a definite advantage in getting its language into the public sphere."
A Fading Legacy
At St. Michael's Lutheran Church in Hustisford, Bob Scharnell and other historical society members pore over musty, handwritten records of religious life. The baptisms, confirmations and marriages are still noted in German through the 1920s — well after the anti-German hysteria sparked by World War I. Then, in the 1930s, Wisconsin record keepers switched to English. Historians say not much daily use of German lingered anywhere in America after World War II.
In fact, the folks gathered around these old books represent a turning point. Bill Germer, who is the oldest at 79, can speak German but cannot read it. Mary Zastrow, 65, says when she's frustrated, she blurts out a German phrase her Dad used to say, but she's not exactly sure what it means. Scharnell, 68, never learned German, but he has held on to one small tradition. "We can say, 'Come Lord Jesus.' That's a table prayer that we pray around our table, that's in German. And every time we get together, that's what we do," Scharnell says.
Scharnell likes to recite that prayer in German when his grandchildren visit. But that may be about all that gets passed on around here. After all, Hustisford schools don't teach German anymore. Instead, these local keepers of history say, their grandchildren are studying Spanish.
Keeping Up The Mother Tongue
Music From Madison Maennerchor
The first known record of the original German verses from the song "Lo, How A Rose Is Blooming" were from a German hymnal, which was published in Cologne in 1599. The song tells the story of how Mary realizes she is giving birth to the Messiah, as foretold by the prophets.
Lo, How A Rose Is Blooming, performed by the Madison Maennerchor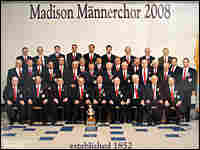 More From Hustisford
While the German language is a cherished but distant legacy for most folks in the tiny town of Hustisford, Wis., 67-year-old Mel Grulke works hard to keep it up. Grulke's great-grandparents immigrated to the U.S. in the late 1880s, yet three generations later, his farmer parents still spoke German at home, attended German language church services and chatted in German with shopkeepers when they brought their farm eggs into town to sell. As a child, Grulke remembers feeling shame about this.
"It was old-fashioned," he says — just like the homemade summer sausage his mother put in his lunchbox, instead of the coveted Oscar Meyer hot dogs and Twinkies that his town friends ate.
But by high school, Grulke says, it dawned on him that being bilingual was a great asset. He joined the military hoping to be stationed in Germany (he was sent to France instead). He did eventually travel to his ancestors' homeland, and keeping in touch with friends there is one way he hones his language skills. Grulke married into a family of German heritage, and he and his wife practice speaking together.
Grulke also sings with Madison Maennerchor, founded in 1852, the second oldest German singing organization in the U.S. Its goal is "the perpetuation of choral music, both German and American, German culture, and Gemuetlichkeit."
Even as German died out in every other aspect of daily life in Hustisford, Bethany Lutheran Church offered German language services into the 1970s. Last Christmas, in an effort to make its holiday service special, the church asked Mel Grulke to deliver a Bible reading in German.
Pastor Timothy Bauer says worshippers enjoyed it, even if many didn't understand every word, "because it's how they were raised." He says some feel so strongly, "it's almost as if they believe God spoke German."