Keeping Up The Mother Tongue
Music From Madison Maennerchor
The first known record of the original German verses from the song "Lo, How A Rose Is Blooming" were from a German hymnal, which was published in Cologne in 1599. The song tells the story of how Mary realizes she is giving birth to the Messiah, as foretold by the prophets.
Lo, How A Rose Is Blooming, performed by the Madison Maennerchor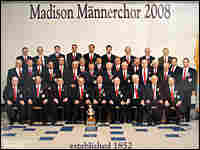 While the German language is a cherished but distant legacy for most folks in the tiny town of Hustisford, Wis., 67-year-old Mel Grulke works hard to keep it up. Grulke's great-grandparents immigrated to the U.S. in the late 1880s, yet three generations later, his farmer parents still spoke German at home, attended German language church services and chatted in German with shopkeepers when they brought their farm eggs into town to sell. As a child, Grulke remembers feeling shame about this.
"It was old-fashioned," he says — just like the homemade summer sausage his mother put in his lunchbox, instead of the coveted Oscar Meyer hot dogs and Twinkies that his town friends ate.
But by high school, Grulke says, it dawned on him that being bilingual was a great asset. He joined the military hoping to be stationed in Germany (he was sent to France instead). He did eventually travel to his ancestors' homeland, and keeping in touch with friends there is one way he hones his language skills. Grulke married into a family of German heritage, and he and his wife practice speaking together.
Grulke also sings with Madison Maennerchor, founded in 1852, the second oldest German singing organization in the U.S. Its goal is "the perpetuation of choral music, both German and American, German culture, and Gemuetlichkeit."
Even as German died out in every other aspect of daily life in Hustisford, Bethany Lutheran Church offered German language services into the 1970s. Last Christmas, in an effort to make its holiday service special, the church asked Mel Grulke to deliver a Bible reading in German.
Pastor Timothy Bauer says worshippers enjoyed it, even if many didn't understand every word, "because it's how they were raised." He says some feel so strongly, "it's almost as if they believe God spoke German."