'Mythbusters' Have Fun in the Name of Science
'Mythbusters' Have Fun in the Name of Science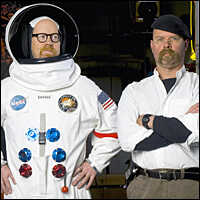 Breaking Glass Episode
Can a singer really break glass with just his or her voice? Rock singer and voice coach Jaime Vendera and Mythbusters co-host Adam Savage try their luck.
Have you ever heard the claim that yodeling can cause an avalanche?
Picture this: a lederhosen-clad vocalist on a mountainside belting out a call that sends ice and snow crashing down the slope.
Could that really happen?
Adam Savage and Jamie Hyneman tried it.
The duo are co-hosts of Mythbusters, a show on the Discovery Channel.
In the name of science, they put sayings such as "a rolling stone gathers no moss" and other popular suppositions to the test.
Savage and Hyneman talk to Andrea Seabrook about yodeling, avalanches and explosives, a heavy metal singer and shattering glass, and how their sometimes-clashing personalities actually make for a powerful problem-solving tool.
Related NPR Stories
Web Resources