Egyptian Film Stirs Coptic Christian Controversy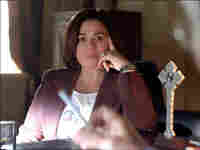 A new Egyptian film is stirring controversy in the minority Coptic Christian community for its frank portrayal of the difficulty Christian couples face in getting divorced or remarried.
The film was threatened with a lawsuit even before it was finished and continues to draw attacks over the Internet.
The film is called One-Zero. And as any Egyptian can tell you, that's a score from this predominately Muslim nation's other religion: soccer.
When a big game starts, Cairo's famously clogged streets suddenly clear and commerce all but halts as crowds huddle around radios and television sets with an intense devotion. In last year's Africa Cup, 1-0 was the score of Egypt's victory over Cameroon, and the film's conceit is that soccer is the one positive element in this frequently dysfunctional mega-city.
In short: soccer 1, life 0.
Neveen Character Sets Off Alarms
All the major characters in the film face problems. But it was the Christian character Neveen's story that set off alarms. In one scene, Neveen's lawyer explains that having struggled for years to get a divorce, she now has two options if she wants to remarry: sue the church or convert to Islam, both of which she rejects as impossible.
By the end of the movie, Neveen is pregnant with no hope of becoming a proper married woman in the eyes of the church.
Screenwriter Mariam Naoum says Neveen's problems are similar to those faced by many people in Egypt's Christian minority.
"She's a woman in her 40s and really wants to bear a child," Naoum says. "And I thought if she was a Muslim woman and if she were divorced she could remarry. But because she's Christian, Neveen isn't able to do that.
Marriage As Sacred Union
A number of religions regard marriage as a sacred covenant, but the Coptic Church enforces that view quite rigidly. An ecclesiastical council reviews petitions for divorce, but grants them only under certain conditions, including adultery, conversion, or the death or longtime disappearance of a spouse.
While the film was in production, a group of Christian attorneys tried to block it, arguing that it demeaned the sanctity of Coptic marriage. Attorney George Kiroulos says he admired the performance by Elham Shahin, who played Neveen, but that the character is not a good Christian.
"She played the role well, but the character wasn't religious," he says. "Yes, she wanted to marry in accordance with religion, but she lived a life of mischief and the proof is that she was impregnated not by her husband but by her lover."
The attacks spread to the Internet. One Coptic Web forum featured comments such as, "This is disgusting. Something has to be done." The uproar died down somewhat after the film was released, and critics realized that the divorce issue was just one of several interwoven plotlines about life in Cairo.
Engendering Debate
Director Kamla Abou Zekry says she's glad she made the film, although she was taken aback by all the controversy.
"I just wanted to speak about this problem, because I have some friends who have this same problem," Abou Zekry says. "For me it was a surprise, all that happened, and all the newspaper and programs and ... I was not planning for it."
She hopes her film will engender more debate about the issue, but the church seems to be in a defensive posture. After all, this issue has already been to the Supreme Court, which ruled in favor of a Christian man seeking to remarry. The court said it was his right as an Egyptian citizen, but Coptic leaders told Egyptian media that the ruling wouldn't affect their procedures in the slightest.
Meanwhile, Abou Zekry proved that One-Zero has definitely captured something in the Egyptian character: She missed the first appointment for her interview with NPR, but she had a good excuse — she was watching Egypt's World Cup qualifying match.
Aya Batrawi in Cairo helped produce this radio piece.