Collapsing Mountains Rocked Italy's Earthquake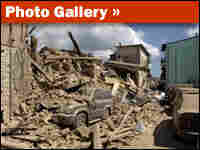 The quake that struck L'Aquila in central Italy early Monday morning is a symptom of an unusual phenomenon: collapsing mountains.
More than 200 people were killed in the quake — Italy's deadliest in nearly three decades.
Rise And Fall
Gigantic forces produced by moving crustal plates created the Apennines, the mountains that run down the spine of Italy. But these forces are also causing them to collapse.
Italy lies between two huge plates: the African plate to the south and the Eurasian plate to the north. Geophysicist Paul Earle of the U.S. Geological Survey says a smaller "microplate" has also been pushing into Italy from the east. This has caused the landmass to compress like a carpet being pushed from the side on a wooden floor. The carpet bundles up into ridges — that's the Apennine mountains, where the recent quake took place.
But on the western side of the country, Italy is also dealing with the creation of a basin, says Earle. That's because the Earth's crust there is actually stretching apart. As the Apennine mountains ride over that basin, gravity pulls them down.
"Gravity is actually causing the slow collapse of this mountain chain," says geologist Bob Holdsworth of Durham University in the United Kingdom. "And the geological faults — huge fractures that cut through the Earth's crust — are actually accommodating that collapse, so that's why this area is so tectonically active; that's why there are so many earthquakes in this region."
Tectonic Scars
Holdsworth says these big faults are found in clusters or families. He and a team of scientists from the U.K. have been studying the history of these faults. The region near the quake is in fact famous for its sharp, cliff-like scarps, which are the scars left on the surface from previous quakes along those faults. When one cluster experiences a slip and causes a quake, it changes the pattern of stress in nearby faults, which leads to the next quake.
Holdsworth is studying the chronology of those quakes. "What we're doing," he says, is "using a past record of fault movements to try and predict into the future."