Detained Journalist's Father Vows To Stay In Iran
Detained Journalist's Father Vows To Stay In Iran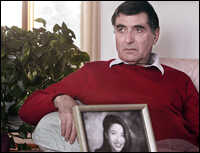 Jay Pickthorn/AP/The Forum
Behrouz Mehri/AFP/Getty Images
More On Roxana Saberi's Case
Journalist Roxana Saberi, who has been detained in a Tehran prison since she was arrested on Jan. 31, had surprise visitors Monday: her parents.
It was the first time the journalist, who has reported for NPR, the BBC and other news organizations — and who has both American and Iranian citizenship — has seen them since she was arrested.
"She was quite surprised to see us," Saberi's father, Reza, tells NPR's Melissa Block. "We were also very excited that we were able to see our daughter. She looked pale and a little weak, but then we talked, her spirits were good. She said that she eats now and she even exercises, and some changes have happened that they had given her television. She could watch the local channels. And she could read books. ... She gave us a list of her books that we will take to her in a few days."
During the conversation, a person from the prison sat in and listened. But Roxana did talk a bit about the case, Reza Saberi says.
"She told us that she would like to visit her lawyer again and that in the file there are certain things that are not true," he says. "She wanted to point out to the lawyer that apparently some of the statements were made under pressure, under threat, you know. So that they were not valid."
Saberi's parents traveled from their home in North Dakota to Iran. Her father says he hopes to visit her once a week. And he doesn't plan to leave until the case is resolved.
"There's a day of visitation," Reza Saberi says. "On that day, we will try to go and see her again. There are some ceremonies — you have go through certain steps before you can see. But all of that can be done on the same day. I am planning to stay here; if takes very long, then my wife might return to the States. But I will stay here until this case is resolved."